With so many changes happening on Facebook, offline events are more important than ever before!

Knowing this, our team has modified the BuyerBridge Offline Event Uploader design to improve mappings between CRM and DMS systems, generate match back rates more efficiently than Facebook, and ultimately make offline events easier for our users.

What's Changed?
The brand-new design update for our Offline Event Uploader is far more advanced. Follow along to discover what new features were added and how to navigate the new design here:

First, for users who have never uploaded any offline events before, you will see a 3-step guide to download offline customer data and enable match back reporting.
Download customer data
Prepare & upload
View results
Below the 3 steps is where you will select the Event Type you are uploading, and upload the dealer's CVS or file.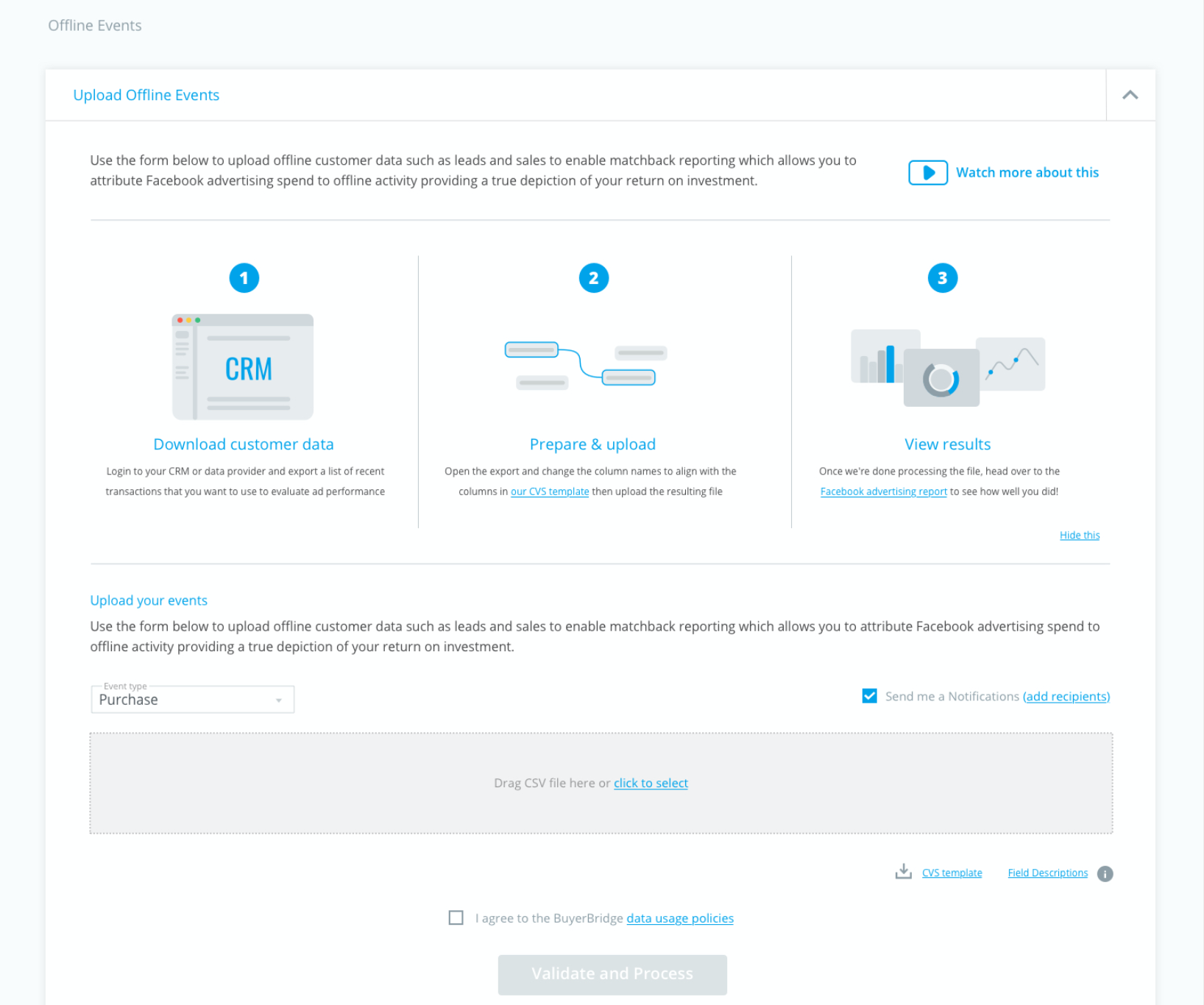 ...and to improve the likelihood of a successful CSV upload, we have added further instructions that detail the criteria critical for uploading CSV data, PLUS the ability to select a header row when uploading a CSV file.




After your CSV has been successfully uploaded, the map your data UI screen will display - where you have the ability to map your account's data and match it to our column indicators.
Drag and drop our column indicators to their appropriate location above your data.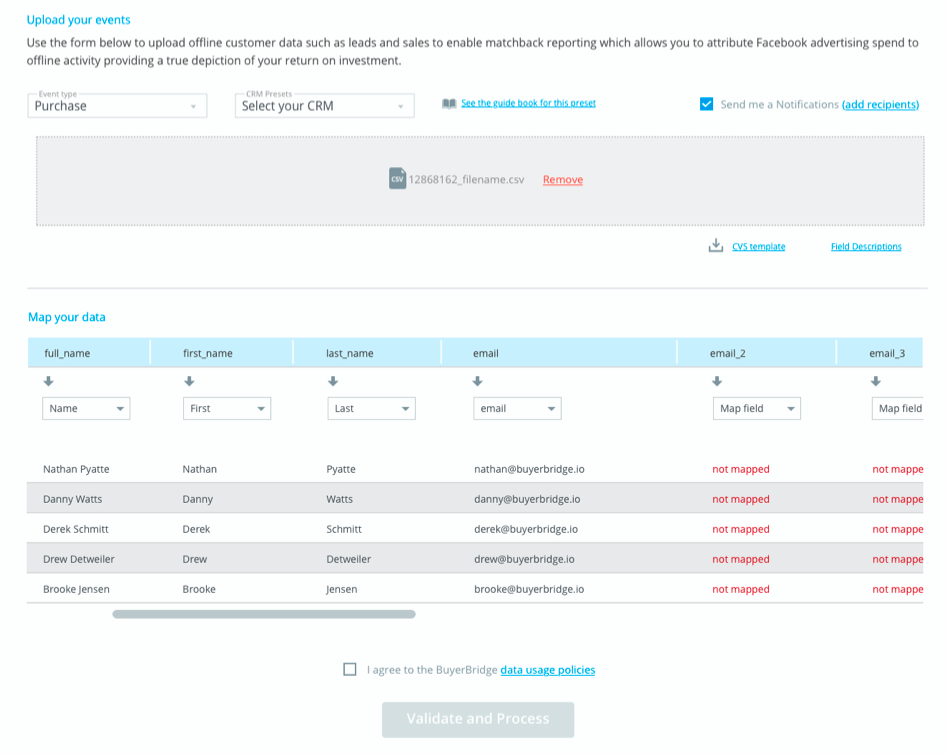 Once your data has been validated and processed, we'll be analyzing your data and outputting:

The "File Status Graph" (which determines whether your "File row results" are successful or have errors, and establishes if adjustments need to be made to your export).
A "Rating" based on if the data is good or not. (Poor, Fair, Good, Awesome)
Your last uploaded CSV file.
An indication of any days where there is no data at all!

NOTE: If adjustments DO need to be made to your export, you can always have your dealer client go inside and upload the file themselves - they can also upload weekly but make sure that there are no duplicates!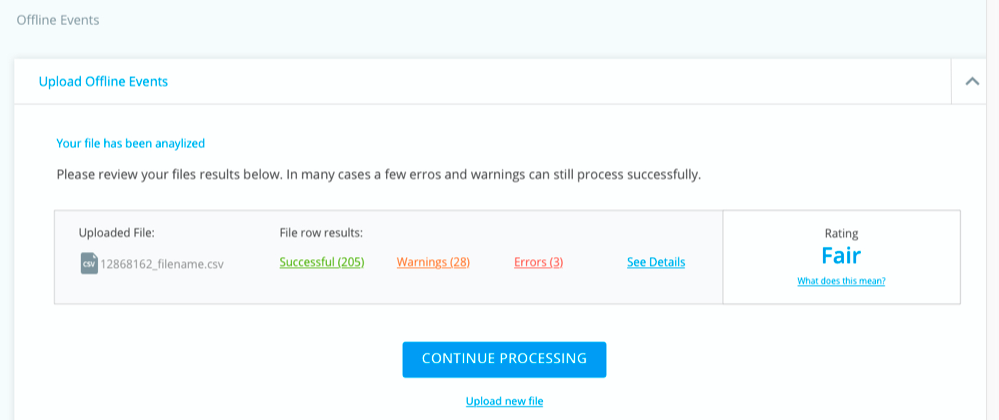 To understand more about your "Rating," click "What does this mean?" underneath the rating you received to see the definition of your Offline Events File Rating.

Lastly, when you select a date range that doesn't include any uploaded offline events, our Facebook Advertising Metric Funnel will display a new CTA button located bottom-of-funnel, prompting all users to "Upload Events!"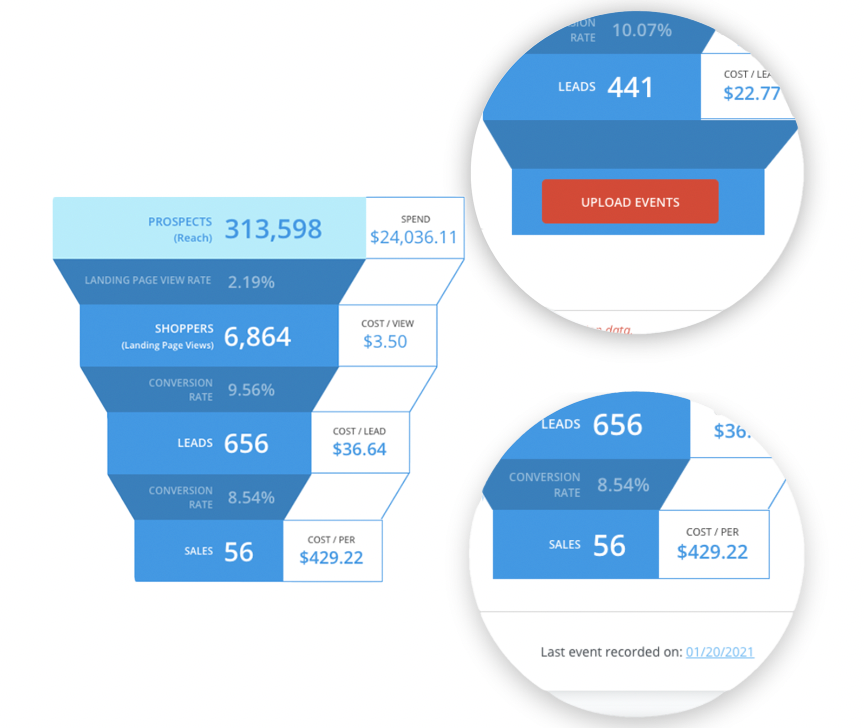 Clicking the "Upload Events" button will redirect you from the Dealer Dashboard into the Offline Event Uploader.
Previously, a small # of offline events caused "Cost-Pers" to be WAY too high, while no offline events at all resulted in a bottom-funnel that's empty!
All you have to do is Select your CRM and upload...no longer do you have to manually insert all of the information from your CSV and match it back to our template!
It's that simple.
COMING SOON:
To simplify the upload process and increase efficiency, we will be adding a "Select your CRM" dropdown that houses CRM preset templates.

Users will have the ability to toggle through these CRMs and select their CRM while uploading the CSV!
All you have to do is select your CRM and upload!