BuyerBridge enables auto agencies to track metrics concerning their dealer clients' Facebook Marketplace Listings - which is something that Facebook Business Manager doesn't offer.
Both agency and dealer users will have visibility into Facebook Marketplace metrics, but the reports that are generated vary depending on which type of user you are (dealer or agency).
Use this quick link guide to jump to:
Marketplace Report (Dealer-Level)
If a dealer has Marketplace listings, they will be able to access their Marketplace Report from the side menu, under Dealership > select Reports > click Marketplace from the dropdown menu.
Our dealer-level Marketplace report helps dealers track their success on Facebook Marketplace and will contain 2 sections:
Facebook Marketplace Stats
Metric Comparison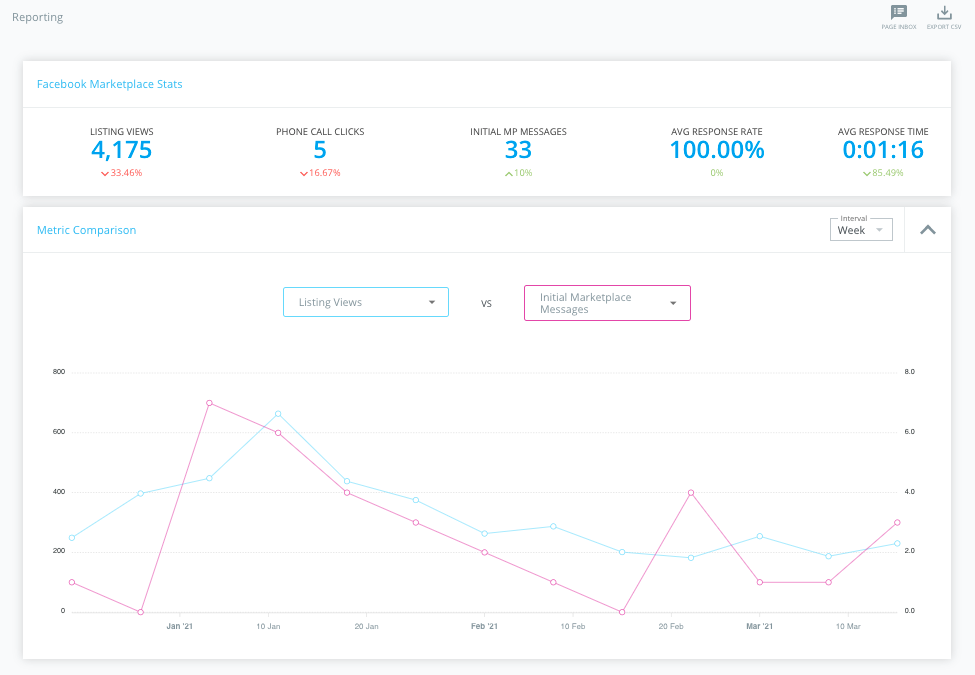 1. Facebook Marketplace Stats
The first thing that will be displayed on the reporting screen will be key Facebook Marketplace Stats, including:
Listing Views
Phone Call Clicks
Initial Marketplace Messages
Average Response Rate
and Average Response Time (in hours)

You'll notice that below each metric will be a % (in either green or red) that indicates the performance of that specific stat!
BuyerBridge determines each metric's performance based on a comparison between the dates you've selected and performance from the previous 30 days.
But that's not all...within the Marketplace Report at the dealership level, all users have access to a Metric Comparison Tool.
2. Metric Comparison
Our Metric Comparison tool within the Marketplace Report provides users with the ability to compare key Marketplace stats that have been generated over extended periods of time.
BuyerBridge will display a visual representation of this comparison using a line graph!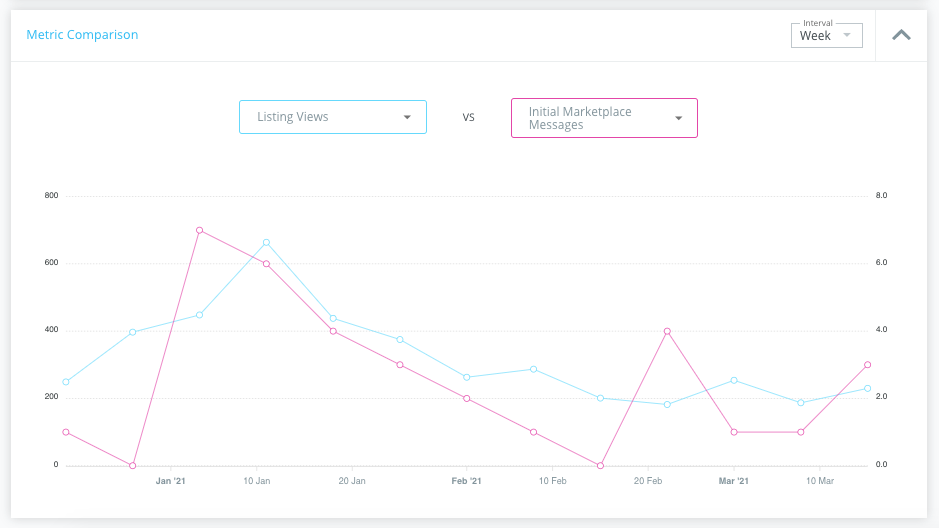 By default, BuyerBridge runs Listing Views against Initial Marketplace Messages using a "Week" Interval…
...but users have the power to toggle between any of the Marketplace metrics generated and choose between an Interval of Day, Week, or Month.

For example: Your agency can run Listing Views against Initial Marketplace Messages to determine whether or not the # of times people viewed your listings details page has any relationship to the # of buyers who sent a 1st-time message about it on Marketplace.
To change the metrics being compared:
Navigate to the upper middle of the Metric Comparison section
Find the Marketplace metrics that are currently selected
Click on the Marketplace metric you want to change
And toggle to a new metric from the dropdown menu
If you want to compare metrics over a period of time longer than a week:
Navigate to the upper right of the Metric Comparison section
Click Interval
Toggle to the desired Interval from the dropdown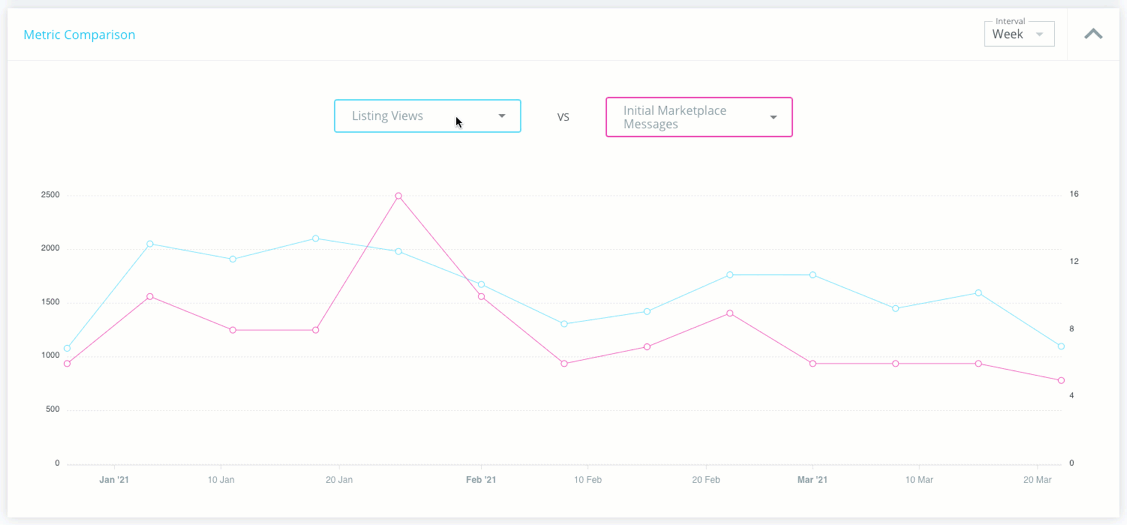 When you select the metrics you want to compare and specify an Interval, the graph will automatically update to reflect the changes you made.
Facebook Marketplace Report (Agency-Level)
The BuyerBridge Facebook Marketplace Report provides agencies with a way to easily identify response rates and run group-level reports for total Marketplace stats through our searchable table...PLUS agency users can now set an Advertising Spend Override!
Our Facebook Marketplace Report on the agency-level provides the following Marketplace stats for dealer accounts:
Views
Messages
Phone Clicks
Response Rate
And Response Time
...but what's different for agency users is that ALL of your dealer clients' Marketplace stats aggregate on ONE single screen, so you no longer have to manage accounts individually!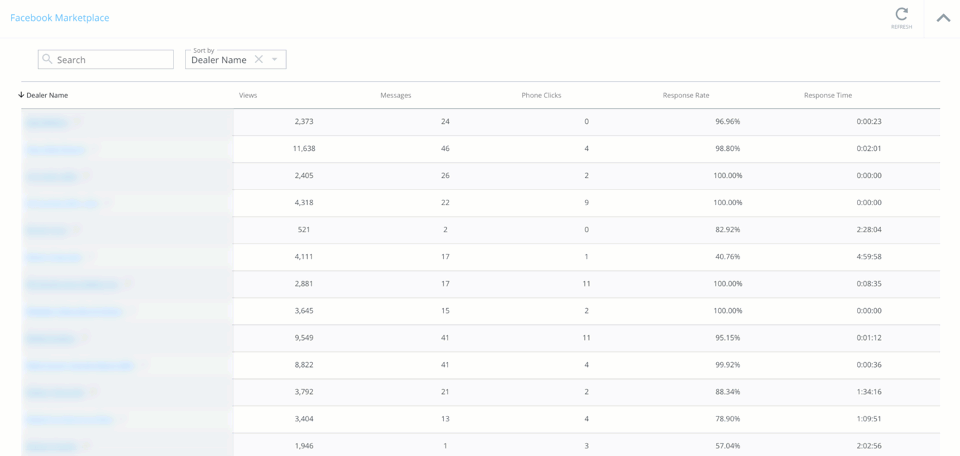 By default, the table is sorted by "Dealer Name," but you can click "Sort by" to organize the table by any of the stats generated within the report.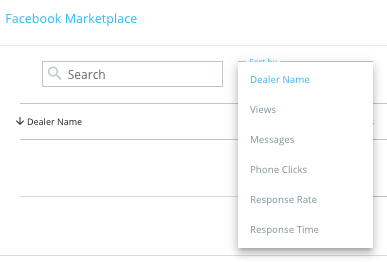 To easily identify how time-efficient dealers' responses are:
Click Sort by > select Response Rate from the dropdown menu

To run group-level reports for total Marketplace stats:
Type in the dealership groups name in the Search field
Click Sort by > select the specific stat that you want to run a report on from the dropdown menu
To locate all stats OR perform a Metric Comparison for an individual dealer:
Using the Search field, type in the dealerships name
Next, click on the upward trend icon located next to the dealer name.
This will redirect you from the agency Facebook Marketplace report to the dealership Marketplace Report.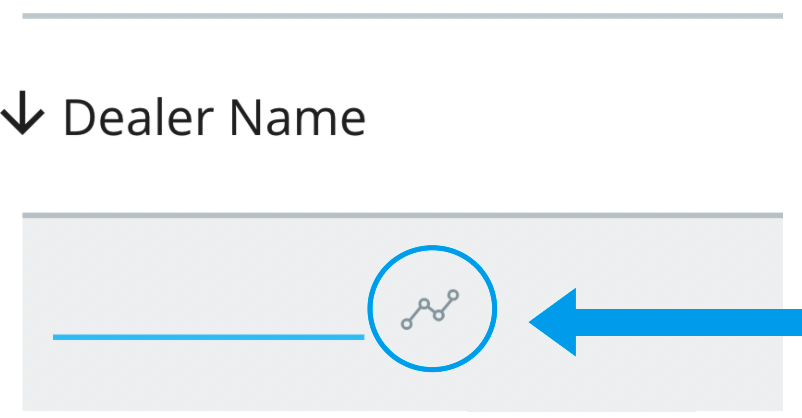 UPDATE: Spend Override System for Facebook Marketplace Reporting
In an effort to provide greater control over our reporting capabilities, we have added in the ability to include a Spend Override on the Facebook Marketing Reporting Page.
With this new update to BuyerBridge's Facebook Marketplace Report page, users can:
Set a Percentage of Spend or Fixed Monthly Value override
Filter data to be displayed with or without the spend override in place
For example: When adding in a Spend Override of 15% on a $3,000 spend, the spend will be reported at the top of the funnel as $3,450.
To enable Override Spend Calculation:
From the BuyerBridge side menu, under Dealership > select Reports > click Facebook Advertising from the dropdown menu
Navigate to the upper right-hand corner of the Facebook Advertising Reporting screen > click the "cog" Settings icon

Once the Advertising Settings slide-out is displayed, click the box next to Override Spend Calculation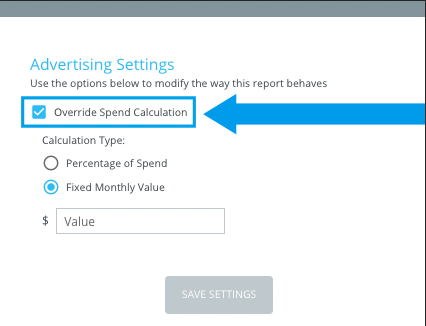 Next, select a Calculation Type (Percentage of Spend or Fixed Monthly Value)

If you choose Percentage of Spend, type in the Value (%)
If you choose Fixed Monthly Value, specify the Value ($)

Click Save Settings
It's that easy!