Question
How can I maximize my Facebook Marketplace Listings / What are Facebook Marketplace best practices for an automotive dealership?
Answer
Although you can't "beat the algorithm" and guarantee top results, here are a few things that you can do to maximize the chances for more inquires for your Facebook Marketplace listings.
1. Messenger response is critical
Facebook Messenger is the primary tool to respond to Facebook Marketplace inquiries. Facebook monitors two critical stats that their ranking algorithm uses to show or not show your listings.
Average Response Rate: respond to all inquires within 24 hours of the initial inquiry (realistically the faster your respond, the better the conversion outcome is)
Conversation Efficiency: this is also known as the 3 touch rule! You must have 3 back and forth messages within 24 hours to show Facebook you are driving conversations and handling the consumers inquiries.

Example: consumer messages dealer, dealer message consumer, consumer messages back to dealer (3 touch rule met!).
You can view Marketplace data points in the BuyerBridge Marketplace Report (Reports > Marketplace).
2. Ensure your vehicles CAN be posted to Facebook Marketplace
Facebook will only post your vehicle if it meets the following criteria:
Used vehicles only
500 or more miles
2 or more vehicle images (stock images should not be used and may be automatically rejected)
Price must be valid (no blank priced vehicles will be added)
You can view a dealers inventory and see common errors by visiting the Reports > Inventory Report (https://app.buyerbridge.io/reports/inventory) in BuyerBridge.
2. Remove Image Overlays
Facebook Marketplace supports C2C (Consumer-to-Consumer) and B2C (Buisness-to-Consumer). Consumers on Marketplace interact with other Consumer (C2C) posts at a much higher rate than Business posts.
Image overlays look and smell like a dealer post.
Remove your image overlays and drive more VDP Views on Facebook Marketplace.
Contact support if you want to use a non-primary image as your main image on Marketplace. By default, BuyerBridge will use the first image found for each VIN from your feed provider.
3. Ensure your price is competitive
Facebook Marketplace integrates with Kelley Blue Book and shows consumers a value range. Posts that are within the KBB value tend to get higher engagement.
Tables can't be imported directly. Please insert an image of your table which can be found here.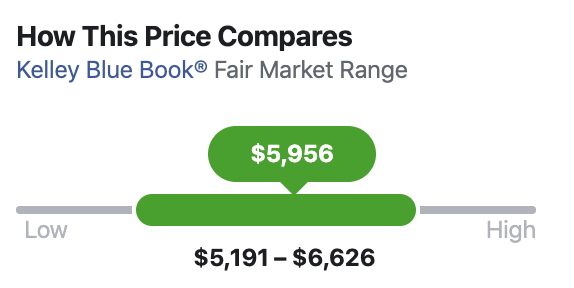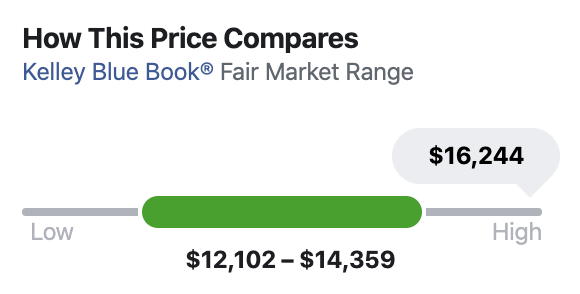 Recommended
Not Recommended
Facebook is continently testing features to help consumers. You cannot control this feature or recommended price on Facebook Marketplace.
4. Ensure you only have 1 Facebook Marketplace Inventory Partner
Many dealerships have multiple companies trying to post Facebook Marketplace. This can create duplicate content which just like Google Search, can negatively affect the overall performance for your dealership listings.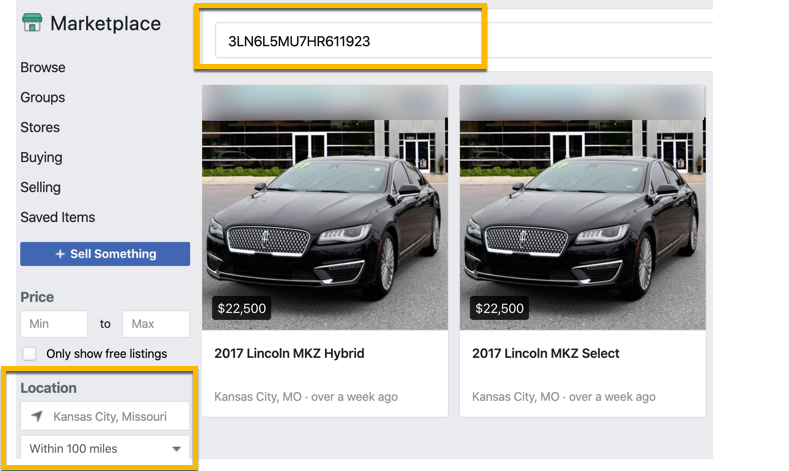 Change your location to 100 miles around your dealership city
Search Marketplace for a few random VINs
Ensure you don't show two or more versions of the same vehicle
To troubleshoot which providers are posting follow: Who is posting my vehicles to Facebook Marketplace?