As of June 2020, agency partners have free access to our new MarketAnalyzer tool, and have the ability to whitelabel the technology for your team.
Using this tool, agencies can identify key shopper data points within any dealer's market with just a few simple clicks.
You'll gain instant insights about any market, including:
Total Facebook Users
Total In-Market Auto Shoppers
User Demographics
User Credit Categories
Time Until Vehicle Purchase
WATCH VIDEO: https://youtu.be/wsNvPUr-bJg
Getting Started with the MarketAnalyzer
Visit https://analyzer.buyerbridge.io/ .


Start by typing in a prospect or existing client's business name.




Select a Primary and Secondary radius. If you aren't sure, as a default we recommend a radius of 15 miles for primary market and 30 miles for secondary market.


Click "GET RESULTS" to generate the report.
That's it! You're on your way to instantly analyzing as many markets as your heart desires.
Whitelabeling the MarketAnalyzer Tool
If you want to send this tool to your clients or prospects, whitelabeling is available so you can do so with your branding.
With whitelabeling, you can:
Add your own domain, brand colors and logo
Use a lead magnet to gain more leads and prospects
Remove all references to buyerbridge.io

Reach out to your BuyerBridge Account Manager to learn more about how to whitelabel the MarketAnalyzer tool.
Understanding MarketAnalyzer Results
Market Report and Demographics
This section gives results for the complete addressable users on Facebook and Instagram in the dealer's primary and secondary markets.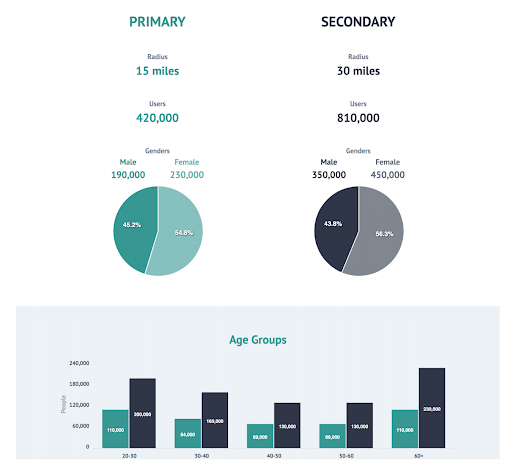 Demographics break these users down further, and although dealers can't target these demographics on Facebook with credit ads, it's helpful to know who you're addressing in their market.
In-Market Auto Shoppers
Total addressable in-market auto shoppers is based on POLK/IHS Automotive data, and lets you know how many users your clients can be reaching.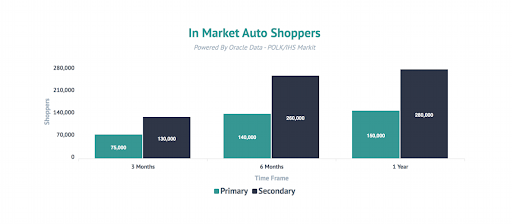 According to Cox Automotive, in 2019, the average time car shoppers spent in-market was 96 days.
Shoppers are spending more time shopping online and less time in dealerships, so reach these users proactively with your client's live inventory.
Credit
Lastly, the Credit section of the MarketAnalyzer report breaks down the credit tiers of the shoppers in your clients' markets.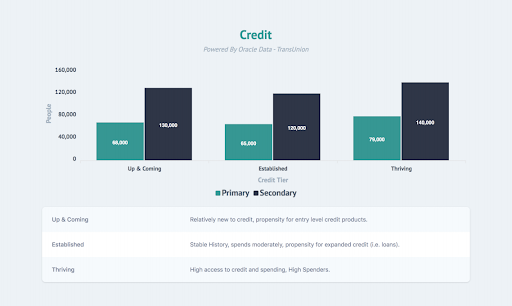 Use this section to plan the credit segmentations of your ads, such as budgeting more towards cheaper or premium inventory based on the amount of users in each tier.