🚨 Important
Updated Facebook (Meta) Reporting

Enhanced Lead Reporting
We have added 2 metrics from Facebook into the "Total Leads" metrics in the BuyerBridge dashboard and Facebook Advertising reports, "Messenger Conversations" and "Call Confirmations." Click here to learn more.
Restored Facebook Website Attribution
Facebook (Meta) has restored Website Attribution windows through their API. To align with this, we have re-instated 7d View, 28d View, and 28d Click back to the Facebook Website Attribution dropdown on the Facebook Advertising Report.



[Action Needed for Pinterest] Update Pinterest Connection User
As of 1/12/23, we have upgraded our BuyerBridge integration with Pinterest to ensure we are using their latest API. Organizations using BuyerBridge for Pinterest reporting and ads will need to reconnect their Pinterest Connection User.
Without the newly updated Pinterest Connection User and new API connection, BuyerBridge will be unable to display Pinterest metrics, and in the future, unable to deploy Pinterest Campaigns.
To re-authenticate your Pinterest Connection User:
Log into BuyerBridge and locate Organization > Settings: https://app.buyerbridge.io/organizations/settings
From the Channels Connection section of the screen, scroll down and find the "Pinterest" channel row. If your Connection user was disconnected, you will see the "Re-Connect" button.
Click the "Re-Connect" button and follow the steps to re-authenticate your Pinterest Connection user.
🎉 New Product Features
12 New + Updated Playbooks

New year, new playbooks! We have added:
2023 Mitsubishi Outlander Sport
2023 Mitsubishi Mirage G4
2023 Mazda CX-30
2023 Honda Civic
2023 Alfa Romeo Giulia
2023 Alfa Romeo Stelvio
2023 Ford Edge
2023 Chevrolet Equinox
2023 Hyundai IONIQ
🚀 Coming Soon
Our Ad Builder, Ad Launcher, and Ad Library are coming in MID-FEBRUARY!


Ad Builder
BuyerBridge is thrilled to announce our new Ad Builder, which you can use to upload a single piece of creative and customize it for all of your clients' ad channels in a few simple clicks.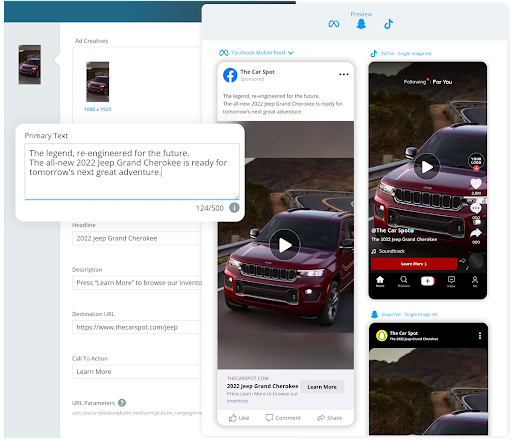 Ad Launcher
Take the ads you've created in the Ad Builder, and deploy them! Fully customize your campaign and ad set structure, select your geographic targeting, define your audience targeting, and set your budgets — then launch your ads.
Ad Library
The BuyerBridge Ad Library allows you to easily store all of your ad assets in one convenient place, making it effortless to re-deploy your custom ads across client accounts to save you time!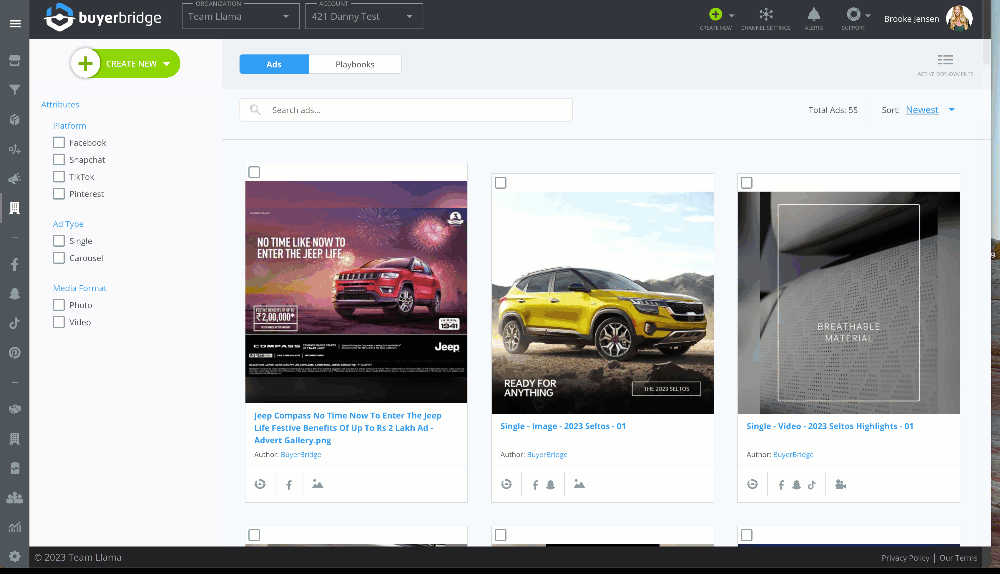 February Partner Webinar

Mark your calendars and be sure to register for our February Partner Webinar, Thursday, February 23rd, at 1 pm EST, where we'll showcase these 3 new tools, give you tips & tricks on how to use them, and show you behind-the-scenes of our 2023 Roadmap!
🔧 Bug, Fixes, and Improvements
The Omni-Channel Advertising Stats located to the right of the funnel on the global dashboard will now display "Cost Per's" / "CP's" within its own row.

CPM = Cost Per 1,000 Impressions
CPC = Cost Per Clicks
CPL = Cost Per Lead
Note: This will update as you remove/add channel filters on the top of the graph

Lifetime budgets for Facebook are now able to be updated within our Campaign Management.
The Website Inventory report will now trim the URLs entered to remove the "https://www." and anything after the .com so the base URL will be able to go through the tool
We implemented changes to ensure that the correct account name is displayed within the TikTok ad previews from our Campaign Management tool.
We are now updating the "Powered By" Icons used on the Dashboard to reflect the Agency name instead of having it default to "BuyerBridge."
Users will no longer be required to log into BuyerBridge to view Ad Preview links.
Dropdown menu's and color selectors throughout the dashboard are now functioning properly.
We have removed all instances of the "Account Settings" link for the client role, including on the channel dashboards, user drop-down, etc.
Users can now successfully be re-directed to the Facebook Advertising page from the Offline Events area of BuyerBridge.