🎉 New Product Features
Top Requested Feature: Meta Landing Page URL Customization

Users are now able to change the landing page URL for EVERY Ad that is being deployed, prior to deploying the Playbook...which means that you no longer need to go to Ads Manager to change the initial URL used during Playbook deployment ever again. 🤩 😃 💯

New "Landing Page URLs" step added within the Targeting & Budgeting section of Playbook deployment process
Use Single URL for all ads or Different URLs for all ads
This feature does not apply for Automotive Inventory Ads being that these URLs come from the inventory feed corresponding to the relevant vehicle page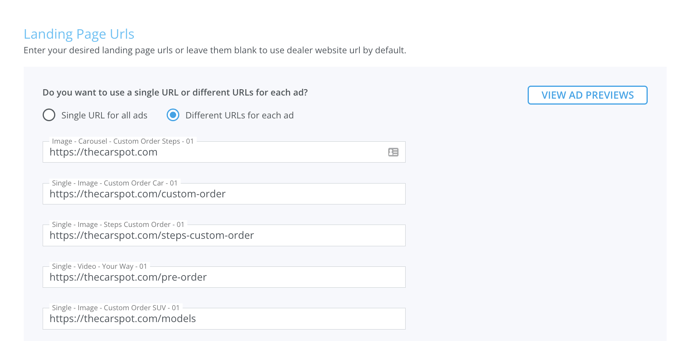 LIVE: BuyerBridge Google Vehicle Listings (Cars For Sale)

Users (in the automotive vertical only) have the ability to take advantage of a new opportunity to surface vehicle inventory on a dealership's Google Business Profiles.

Organic listings and increased visibility on Google with $0 ad spend!
Shows under the "Cars for sale" section.
Reach out to your Partner Experience Manager or support@buyerbridge.com to for additional details on this opportunity.

Learn more about BuyerBridge Google Vehicle Listings.




TikTok & Snapchat Inventory Ad Previews

Users can officially access ad previews for TikTok and Snapchat (in addition to Meta) from our Campaign Management Tool!

Refresh ad previews to view any updates made to an ad
Supports collection thumbnails and overlays for Snapchat ads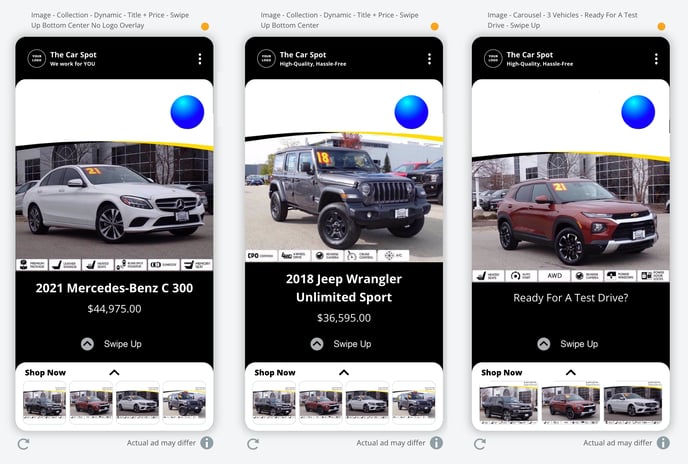 Due to our team manually creating video ad previews using catalog images, transition animations for TikTok ad previews may differ inside of our Campaign Management Tool.
Currently, we are rotating through 5 soundtracks for the audio used in our TikTok and Snapchat video ad previews. As a result, the audio that a user hears on TikTok or Snapchat may differ from the audio used in BuyerBridge.
Automated TikTok Identity Creation

We've simplified TikTok Onboarding by adding a new "TikTok Identity" step! BuyerBridge now requires users to provide a "Display Name" and "Logo" when deploying ads to TikTok. Once the information has been entered, we will automatically create a TikTok Identity for the account being onboarded.
By default:
The TikTok "Display Name" will pre populate using the account name defined in BuyerBridge, but you can easily customize the name to what you want to display.
If you have already uploaded a primary logo to the account within BuyerBridge, we will use the logo provided.
17 New Playbooks

Check out our brand-new Playbooks:

15 Model Line Playbooks (14 of which are new 2023 models!)
2 Quick Lane Service Playbooks (Fall Version & Winter Version)
🚀 Coming Soon
Omni "Ad Launcher"

Our Dev team is making HUGE headway with our Omni "Ad Launcher" tool - which is an advanced tool where you can upload your own images or videos, customize the copy for each channel, and then deploy an ad across every channel you want!

🎥 [WATCH NOW] Sneak peek: Omni Ad Launcher tool

Live Event: November Partner Webinar

Our November Partner Webinar is coming up! Be sure to save the date and register here so you don't miss out: Thursday | November 17th | 1:00 PM EST.
🔍 In Case You Missed It
The Automotive Nomadic Customer Series

Discover the #1 most unreachable car shopper: The Automotive Nomadic Customer. We're is on a mission to find them and stop them in their tracks.
🔧 Bug, Fixes, and Improvements
We added new icons to open the report generation slide-out panel on the Global Dashboard and Facebook Dashboard.
We've enhanced our Campaign Management Tool - again!


Text has been added within the channel headers "Metric" row informing users that the metrics displayed are totals - not representative of the filters applied for active or paused
Previously, when filtering a specific Ad Set or Ad, Sales/CPS metrics were not displayed accurately. As a result, Sales/CPS metrics were removed from the channel headers "Metric" row.