🎉 New Product Features
Updated Click Metric Reporting Across BuyerBridge

As of September 22nd, BuyerBridge has made updates to how we report on click metrics to ensure consistency of our reporting across all social platforms.

Previously, platforms such as Facebook (Meta) were set up to show Unique Clicks instead of Total Clicks. Now, however, all platforms will report on Total Clicks.

Pinterest & Snapchat Offline Events

Quickly prove ROI from Snapchat and Pinterest ads to your clients. Organizations in BuyerBridge now have the ability to upload any client CSV Sold List to Pinterest / Snapchat Ads Manager. Then, BuyerBridge will pull in sold data, match sales back to ads, and display events within the funnel(s)!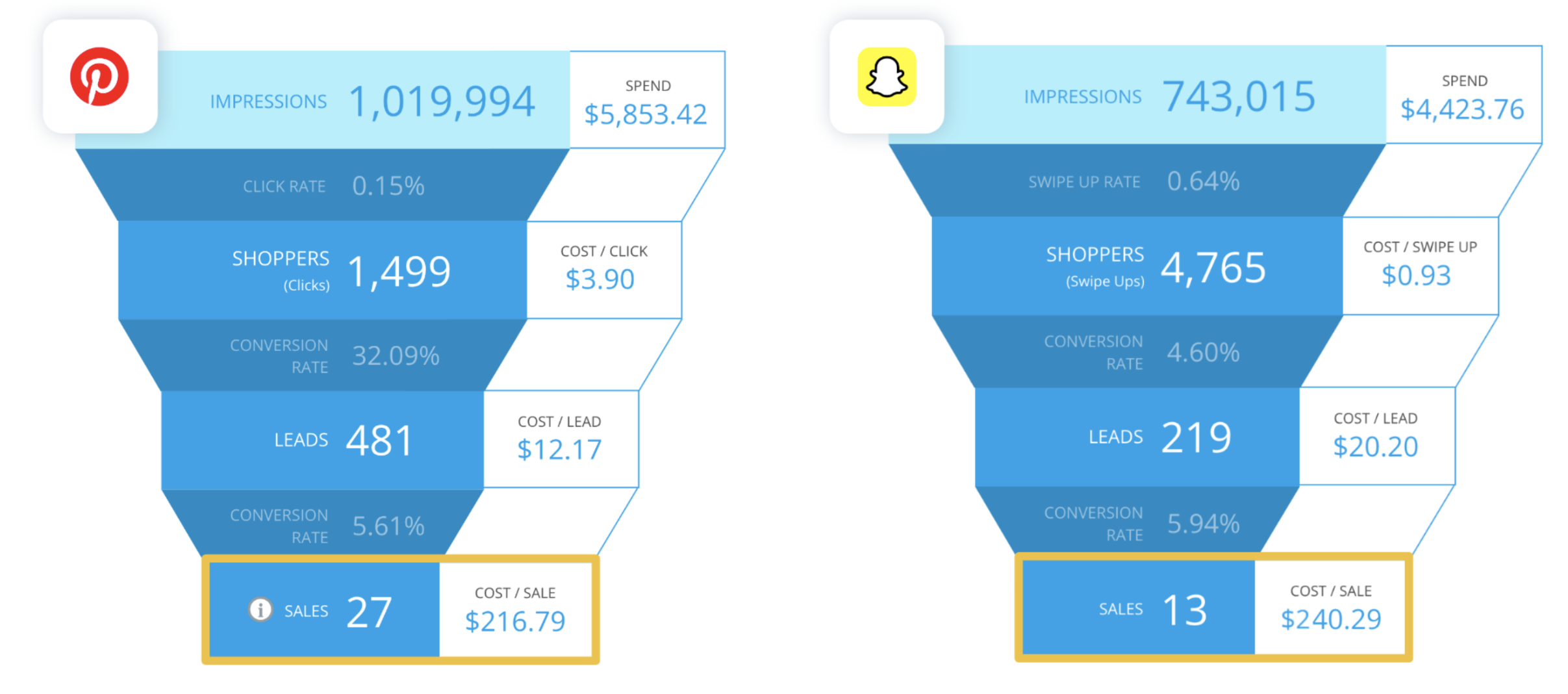 Campaign Management Tool Update

We've added new capabilities within our Campaign Management tool!

New Channel Selection: Turn on / off specific platforms to view only that platform's ads and data
New Search Field: Search within the name of the Campaigns, Ad Sets, or Ads
Ad Preview URL Filtering: Filter the Ad Previews by Channels, Ad Placement, and Ad Status, then copy that link and deliver your client the Ad Previews with the filters you've added.
Whitelabel Ad Preview URL: Whitelabeled users in BuyerBridge will now be able to generate Ad Preview URLs using their Organization's primary domain URL if one is set up
Directly access an ad accounts Campaign, Sets, and Ads within the specific channel's Business Manager
View a thumbnail of the ad within the Campaign Management tool

For more information, click here.
2 Editable Agency Sales Assets

We've recently created 2 sales assets to help your organization generate new business with prospects or existing customers!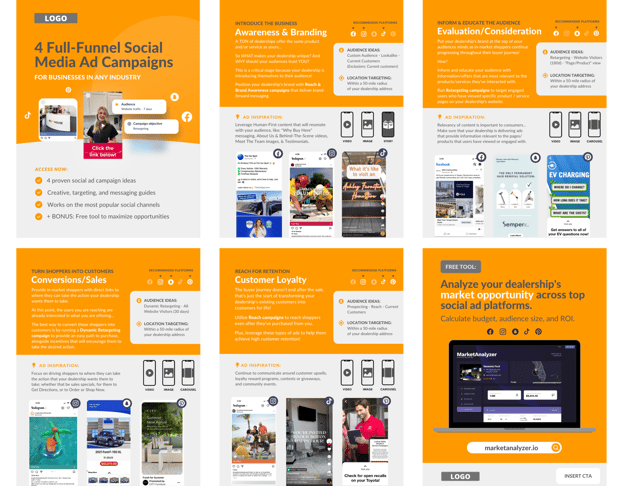 Snapchat Asset Connection: Public Profile Requirement

All new onboardings will be required to provide BuyerBridge access to the account's Snapchat Public Profile. If an account is already onboarded, you will need to connect the account's Snapchat Public Profile prior to deploying any new Playbooks.

Find out how to create and share a Snapchat Public Profile here.
🚀 Coming Soon
Omni "Ad Launcher"

The latest and most exciting project we have in the works is the BuyerBridge "Omni Ad Launcher." The "Ad Launcher" tool allows users a way to build a custom ad for any account inside BuyerBridge:

Include Custom Creative
Image, Video
Copy (customize per channel!)
Deploy a single ad to any available channels

[WATCH NOW] Sneak peek: Omni Ad Launcher tool

Inventory Ad Previews: TikTok & Snapchat

Users will soon be able to preview TikTok & Snapchat Ad Previews from inside of the Campaign Management Tool! (Image below)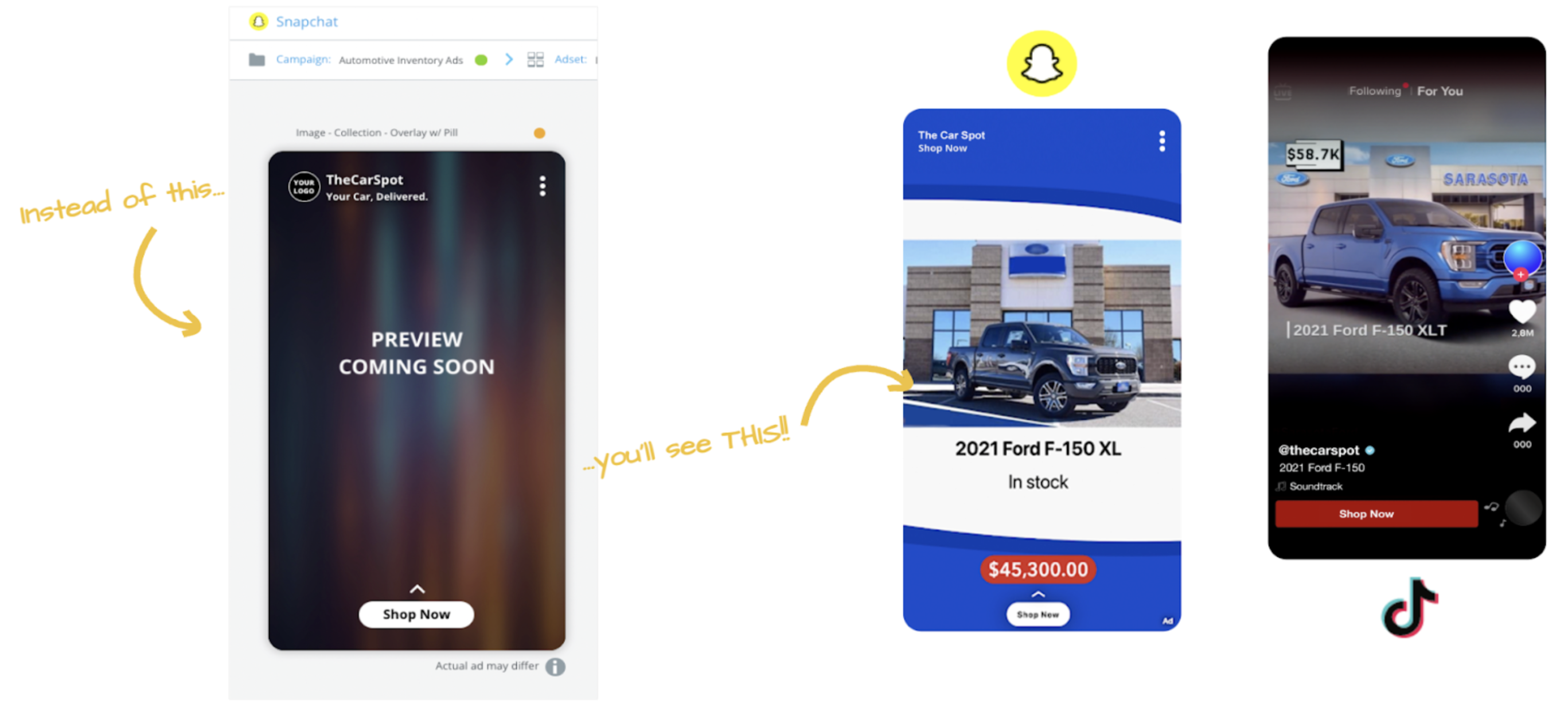 New Series!

Does It Feel Like Today's Auto Shoppers Are Hard To Track? Auto marketers are facing two problems right now:

"Privacy First" data policies (iOS14, CCPA) and a cookieless future…
Ever-changing habits of digital shoppers (40 apps on the average person's phone - where are they?!)

STAY TUNED! Upcoming series all about today's "nomadic customer," and how to track them once and for all!

Read our first blog of the series: Are Car Dealerships Back To "Spray and Pray" Advertising?
Google Vehicle Listings With BuyerBridge

We're providing users with a new opportunity to surface vehicle inventory on dealerships' Google Business Profiles!

Organic listings and increased visibility on Google with $0 ad spend!
Designed specifically for automotive
Enhancements for automotive features, multiple links back to the dealership's website


Interested in adding Google Vehicle Listings to your services? Contact your Partner Experience Manager or email support@buyerbridge.com.
🔍 In Case You Missed It
🔧 Bug, Fixes, and Improvements
Recently, our Ad Operations team identified that some automotive inventory catalogs were not updating in real-time for Meta (Facebook). We immediately brought the issue to the attention of our Meta Representative, who then discovered that it was a widespread issue affecting all Meta feeds.

The Meta issue has since been resolved. However, as always, we encourage clients and organizations to monitor ads for any irregularities and to escalate any findings to support@buyerbridge.com.
We modified the Offline Events Upload tool to remove rows from the CSV file if they do not contain either an email or phone number.

This was causing issues as FB was rejecting the entire offline event file when a row did not contain this data.
With this fix, fewer errors should occur when using the Offline Event Uploader tool.

Previously, there was an issue in the password change process where you could not enter your current password, if it was less than 8 characters, due to the new requirement of passwords having to be more than 8 characters in length with the Laravel upgrade

Now, when changing your current password, users are able to enter their current password regardless of how many characters it is!