Over the past couple of months, Apple's iOS 14.5 update created a lot of discussion in the digital advertising community (especially regarding Facebook and Instagram) - but this is nothing new.
The effects of Apple's newest update are unavoidable, and for agencies, it's critical to have a solid understanding of what those effects are.
Dealers are relying on YOU and your agency for answers to their questions alongside best practices to help them maintain success despite these changes.
Here's what your agency should know:
What Is The Apple iOS 14 Update?
Apple's latest software update, iOS 14.5, has impacted all Apple devices.
The update officially launched on Monday, April 26th, 2021, and allows (in some cases, prompts) users to turn the ability to track data between apps either On or Off.
From February - April, Apple's iOS 14.4 update relating to their AppTrackingTransparency framework was slowly released…
And that's only one of their many recent changes that have impacted the digital marketing environment by protecting user data.
Impact of Apple iOS 14 on Facebook Ads for Dealerships
Users opting out of tracking from Facebook are causing dealerships to experience:
Limited attribution in Facebook metrics Off-Facebook

For example, Landing Page Views and Leads

Changes in audience size
5 Ways To Maximize Your Dealer Client's Success on Facebook, Despite iOS 14
Follow these 5 best practices to maximize the success of your dealer client's on Facebook, despite iOS 14.5:

1. Domain Verification
For optimal performance and the deployment of any BuyerBridge Playbooks, you will need to verify the domain for each client you onboard to BuyerBridge.
ALL of your agency's dealer clients should have verified domains to ensure that your agency or clients' advertising efforts on Facebook are not disrupted or suspended due to asset ownership or privacy concerns.
If you have yet to complete this action or run into any issues in doing so, read: "How to Help Clients Verify Their Website Domain in Facebook Business Manager"

2. Sharing your Agency's Pixel & Prioritizing Pixel Events
BuyerBridge generates a unique Pixel for every agency that enables our platform to receive and process conversion events.
For the BuyerBridge platform to receive and process conversion events, your agency is required to share the Pixel (generated by BuyerBridge) from your agency's Business Manager to your client's Business Manager.
And with the new "8 events per domain" policy, your Dealer Client must prioritize pixel events in their Business Manager.
If you have not yet completed this action, or have any trouble doing so, read: "Sharing Your Agency's Pixel & Prioritizing Pixel Events [Post Domain Verification Steps]"

3. Take Advantage of On-Facebook Strategies
On-Facebook strategies, like On-Facebook AIAs, are now seen as crucial to your clients' Facebook Ad strategy.
Since these Automotive Inventory Ads drive traffic to VDPs on Facebook's platform instead of a dealer's website, there will be NO loss of signal or attribution (since everything is staying right on Facebook!)
By emphasizing more on an On-Facebook strategy, your On-Facebook audiences will begin to grow based on their activity, helping you be less reliant on 3rd party pixel data.
Click here to learn about BuyerBridge's On-Facebook AIA Playbooks! Use the quick link guide to "Jump to 'Overview: AIA - On-Facebook'."

4. Upload & Utilize Historical Offline Data
Offline data is something that your agency needs to take advantage of now more than ever.
Boost your dealerships' accounts with offline data so you aren't solely dependent on 3rd party pixel data to prove attribution.
By using 1st party data strategies, like uploading Offline Data such as Sales and Leads reports, your agency will be able to establish Facebook attribution AND create additional Lookalike Audiences!

5. Implement Oracle Data
Advance your dealer clients' Facebook advertisements by implementing Oracle Data (POLK/IHS Markit, Visa/Mastercard, ComScore, and TransUnion).
Through Oracle Data, your agency will gain access to powerful data insights that other advertisers don't have; like credit score, transactions, and more that will help you better target in-market shoppers for your dealers.
BuyerBridge Platform Updates In Response to iOS14
Based on Apple's most recent iOS 14.5 update, Facebook made changes and no longer provides reporting for unique pixel metrics.
As a result, BuyerBridge has made the following changes:
1. Updated Pixel
We've updated our pixel implementation across all active accounts because our old Pixel implementation was subject to receive events from other pixels and cause problems with the way that they have to track events.
This change reverts all of our installations to Facebook's documented method (from our "Advanced" implementation).
Note: all previous functionality will continue to operate!

2. Unique Metrics (i.e., Landing Page Views)
Due to Facebook's changes in line with iOS 14 and Aggregated Event Measurement, unique metrics are no longer available through the API.
Therefore, in the default Metric Funnel, Unique Landing Page Views will now display as "Landing Page Views."

3. Website Attribution Window Changes
You will see a disclaimer, "*7/28 day view and 28-day click metrics are not available for website events, click here to learn more" in the Website Attribution dropdown.
The BuyerBridge Dashboard (built alongside Facebook's API) will continue to have the ability to report up to 28 days on views and clicks for offline conversions, but this will no longer be the default window.
To continue helping you paint the full picture of attribution, it will become increasingly more important to utilize Offline events, like sales and lead data from your DMS and CRM.
We have modified the Dashboard to give you visibility into and control over your Conversion Windows.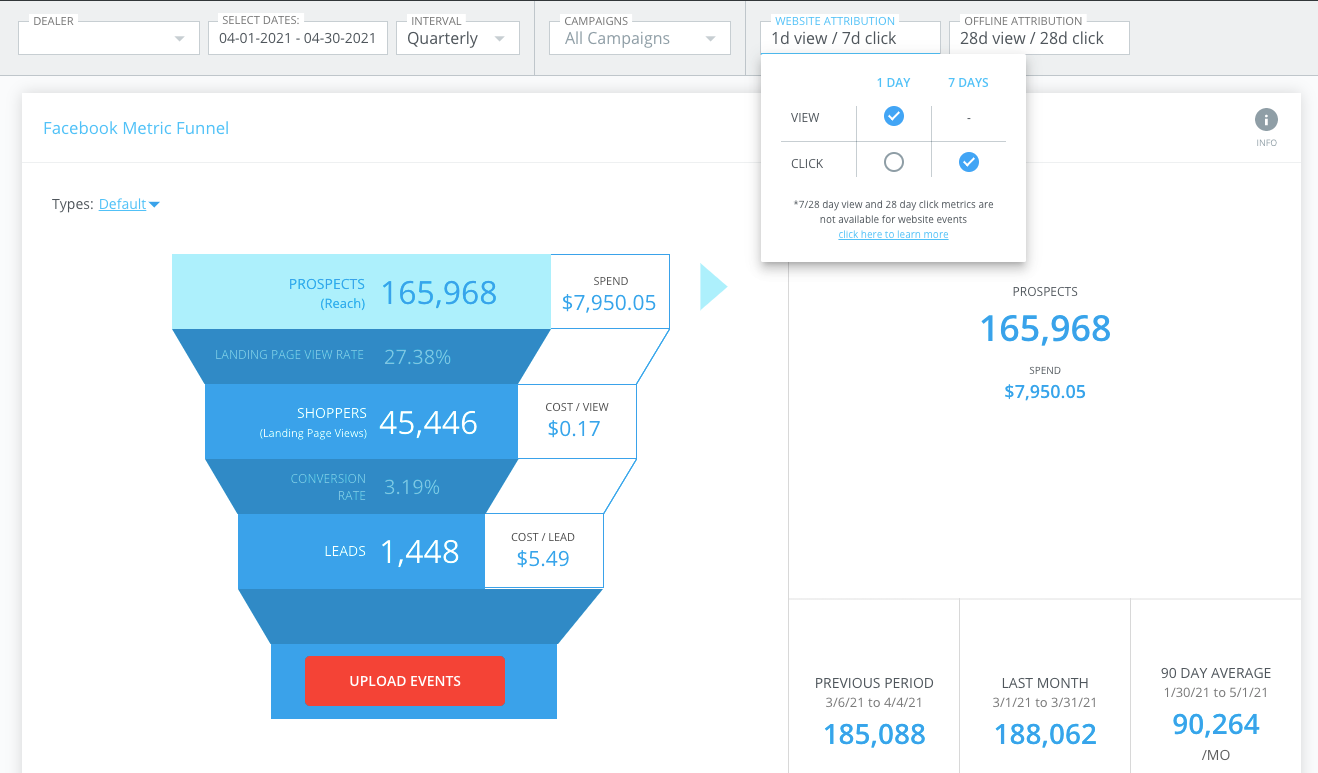 What's Next?
The impact of Apple's new iOS 14.5 remains premature, as the update was just rolled out...BUT BuyerBridge is dedicated to helping automotive agencies maximize their clients' digital marketing efforts.
We continue to see over 86% of dealership customers match back to a profile on Facebook, making Facebook still one of the most powerful mediums to reach a dealer's local market.
Keep your eyes on your inbox for further guidance and education, best practices, and any immediate actions that your agency needs to take as we all continue learning more about the impact of this update.
Let's stay prepared and proactive together!
-Team BuyerBridge