Creating filters on Snapchat is one of the best practices for optimizing any dealer's public story, as we mention in our "Snapchat Organic Guide: For Your Dealership" template…
To provide our partners with further assistance in helping dealers build their organic presence on Snapchat, we created this Snapchat Geofilter Dealer Guide for you to re-brand, customize, and deliver to dealers!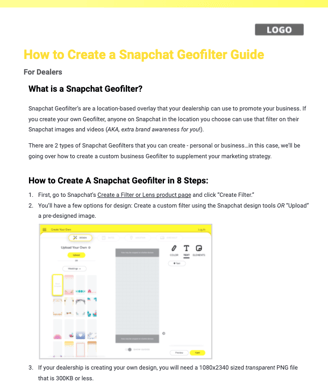 How To Access & Edit The Create a Snapchat Geofilter Guide
Log in to your existing Google account. (If you don't already have one, you can quickly make one for free!)

Go to File > Make a copy.


Add your logo to the header by double-clicking on the placeholder LOGO image to access the header editor, then right-click on the image and select "Replace." (Note: You can also delete the logo placeholder if you want.)
Now you can go ahead and change the font, colors, or copy within the doc!
When you're done customizing the guide: go to File > Download as PDF or deliver to your clients in your preferred format.
Note: If you customize the Geofilter guide, we recommend that you replace the "How to Create a Snapchat FIlter" link that's inside of the "Snapchat Organic Guide: For Your Dealership" asset with your agency's new, customized Geofilter guide!
All done! If you have any questions or complications throughout the process, feel free to reach out to lauren@buyerbridge.com!