Domain verification is a critical step to ensure that your agency's or clients' Facebook advertising efforts are not disrupted or suspended due to asset ownership or privacy concerns.
Once completed, you'll gain the ability to configure conversion events and access advanced features for advertising and campaign performance tracking.
For optimal performance, you will need to verify the domain for each client you onboard to BuyerBridge.
This guide will walk you through the following:
If you're working with a business that is familiar with their social media account configuration and can grant (or has already granted) you access to both their page and Business Manager - jump to the 'Where Do I Add the Domain' section.
Does the Facebook Page Have an Associated Business Manager?
In this step, our goal is to help you identify whether there's an existing Business Manager account for your clients Facebook page or if you'll need to help them create one.
As their advertising partner, it's important to guide your clients through the verification process from their own Business Manager account. If you fail to do so, you may experience delays completing the verification process or service interruptions at a later date.
You'll likely encounter one of the following three scenarios with your clients:
A page exists, with an associated Business Manager
A page exists, without an associated Business Manager
I'm not sure or I'm unable to access my Page or Business Manager
First, you'll need to be a page Admin, then you can follow the steps below according to which scenario you're facing.
From your BuyerBridge dashboard, click Dealer Info.




Navigate to the client's Facebook page, by clicking the Facebook Page link from the BuyerBridge Status page.




Click Page Settings > Page Roles.


Now, compare your screen with the two examples below and follow along depending upon which screen is displaying.
Example 1: No Business Manager
In this example, an associated Business Manager does not exist and a new account will need to be created.
We'd recommend connecting with your client to walk them through the creation process or guide them by using the email template provided below.


Template: If Your Client Needs to Create Business Manager

Example 2: Page is Owned By an Existing Business Manager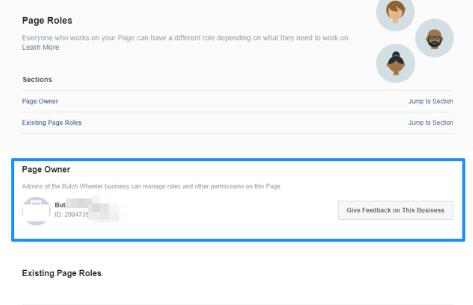 Image Source: Verifying your Domain
In this example, an associated Business Manager does exist, as denoted by the listed Page Owner with ID - which means you'll need to gain access to the account associated with the ID to complete verification.
Continue reading for guidance on how to request permission below.
Unfortunately, if you're unable to access the Facebook Page or determine who can help you from the business, you'll need to go through Facebook's Asset Recovery process. If you need help, contact us at support@buyerbridge.io.
Do I Have the Right Permissions?
Facebook requires users to have Admin level permissions to complete the domain verification process.
You'll need to work with your client directly to gain access for the appropriate user at your business, we've provided an email template for this task below.
We've found the option to add a domain will not be visible unless you have the appropriate level of permissions.

Template: Please Grant Access to Facebook Business Manager

Where Do I Add the Domain I'm Attempting to Verify?
Now that you have access to your client's Business Manager, with an owned Facebook page asset, you're ready to add the domain you need to verify!
Before you start the steps below, make sure you're logged into your client's Business Manager.
Navigate to Business Settings > Brand Safety > then click Domains.


Click the blue Add button.


Image Source: Verifying your Domain
In the Domain Name field, enter the primary website address without http markup > then click Add Domain.


If you were attempting to verify https://buyerbridge.io/ you would only need to add buyerbridge.io > then click Add Domain.
Image Source:
Verifying your Domain
Which Method Should I Use for Domain Verification?
Facebook offers three different options to verify a domain, but you'll only need to complete one of the methods.
If you are the clients' website developer, this process should be straightforward for you... however, if you're acting as your client's agent in working with other vendors, we've provided an email template for your use below.
We strongly recommend using the DNS or Meta-Tag verification options and following along with Facebook's documentation.

Your choices include:
1. Meta-Tag Verification (Suggested)
Requires markup be added to website header.
Will require written client approval if you need to work with a website developer or website provider.
Generally understood request by website developers.
Use the email templates below to gain your client's permissions, then share the necessary details with their website provider for completion.

2. DNS (Domain Name System) Verification
Requires access to the domain registrar, like GoDaddy, which may not be accessible to a website designer or site administrator.
Will require written client approval if you need to work with a website developer or website provider.
Can take 1-72 hours to propagate the required changes.

3. HTML File Upload
Requires website root folder access.
May take an extended period of time if a website developer other than a large site provided is needed for completion.

Once you receive confirmation of the installed code from your client or their website team, don't forget to complete the final step of logging back in to click Verify if necessary.
We're here to help! If you have questions, please contact us at support@buyerbridge.io.
Best Practices From the BuyerBridge Performance Team
Verify Your Business Manager Accounts Too!
Business Manager verification isn't required for domain verification, but can also alleviate potential downtime of any assets owned by the business manager like pages and/or ad accounts.
To determine whether the Business Manager has been verified:
From Business Manager, navigate to Business Info > Business Manager Verification Status.



If the Business is Unverified > click on View Details.


If the Start Verification button is gray or unclickable, there is no need to verify!
Enable Two-Factor Authentication
Facebook recommends that all Business Managers require 2-factor authentication!
You can determine whether the Business Manager has been verified, by navigating to Business Info, then viewing the Two-Factor Authentication section.
You have the option to require Two-Fac Authentication from only Admins, but we recommend it be required for Everyone.