The new California Consumer Privacy Act (CCPA) became enforced in January 2020, and Facebook has released a new set of controls called Limited Data Usage (LDU) as a way to help advertisers comply.
Below, you will find a short video overview of each policy and how BuyerBridge is helping advertisers navigate the changes, as well as a brief text guide.

WATCH VIDEO: https://www.youtube.com/watch?v=nDkVg20Bkag&feature=youtu.be
About the California Consumer Privacy Act (CCPA)
What is CCPA?
The California Consumer Privacy Act of 2018 (CCPA) is a law that went into effect January 2020 giving California residents more control over the personal information that businesses collect about them.

For a complete guide on the California Consumer Privacy Act (CCPA), please visit: https://oag.ca.gov/privacy/ccpa

CCPA only applies to businesses that collect personal information of California residents, and that:
have an annual gross revenue of more than $25 million USD;
annually buys, receives for a "commercial purposes", sells, or shares for "commercial purposes", the personal information of 50,000 or more California consumers, households, or devices; or
derive 50% or more of its annual revenue from selling California consumers' personal information.
Limited Data Usage (LDU) on Facebook
What is LDU?
Limited Data Use feature developed by Facebook to give businesses more control over how their data is used by Facebook to better support businesses with their California Consumer Privacy Act (CCPA) compliance efforts.
Facebook's Limited Data Usage (LDU):
Controls if a business shares visitor data with Facebook for the purpose of advertising and measurement
Affects the Facebook Pixel and offline activity, such as Offline Events
Learn more about LDU on Facebook Business Help Center: https://www.facebook.com/business/help/1151133471911882
The steps BuyerBridge is taking:
BuyerBridge, a Facebook Adtech platform, is taking the following steps to comply with LDU/CCPA:
Updating our Privacy Policy at https://buyerbridge.io/privacy-policy/
All California Accounts were updated on 7/31/20 to maintain the LDU state that was activated automatically by Facebook on 7/1/2020 and restricted the sharing of data with Facebook.

This will affect retargeting audience for California accounts

Adding new LDU features to BuyerBridge per account

Allows an advertiser or agency on behalf of an advertiser to agree to turn OFF limited data usage for California accounts. By turning LDU OFF you will SHARE pixel data with Facebook which will give you the ability to build off-Facebook audiences including website retargeting audiences.
Note: by default, LDU will be turned ON resulting in limited data sharing for California consumers.
Adding a new Offline Event Uploader to make complying with LDU easier and give you the ability to match more offline events to Facebook users and advertising efforts.
Your Accounts - Action Required For CA Dealers

Are you advertising to California consumers and want to continue sharing business data with Facebook including Facebook Pixel data and Offline Events?
BuyerBridge is implementing areas in the platform where, if you elect to do so, you can ENABLE the sharing of data to Facebook which effectively DISABLES LDU and will allow you to create retargeting audiences and report offline performance correctly.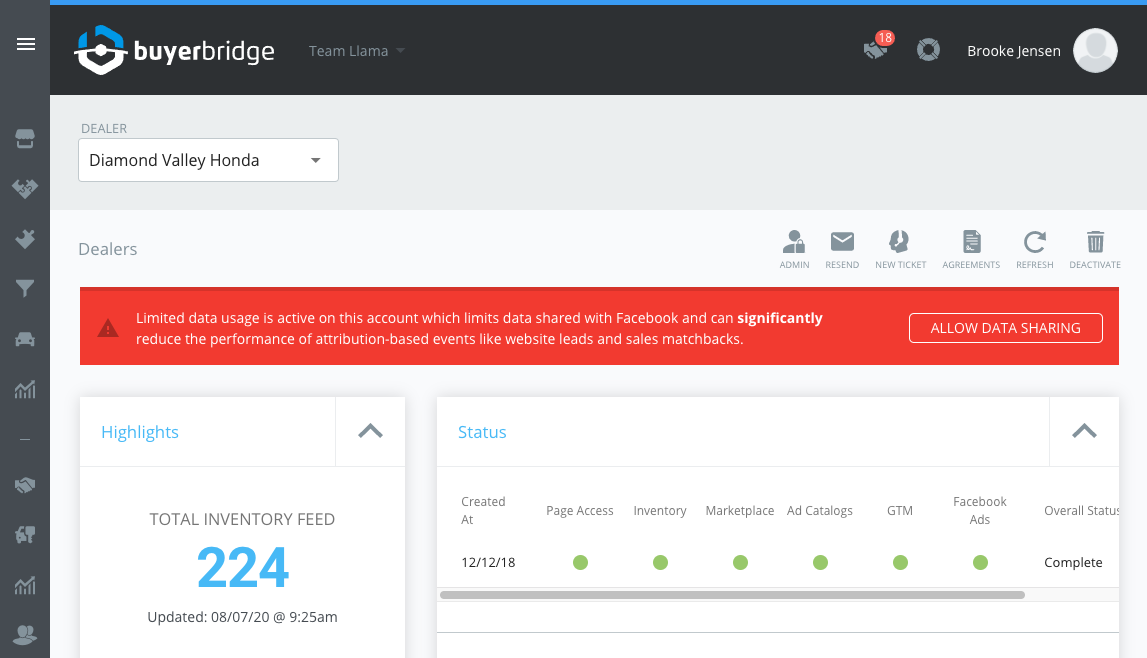 You will now see an alert on the dealer dashboard if the dealer is not opted-in to Data Sharing.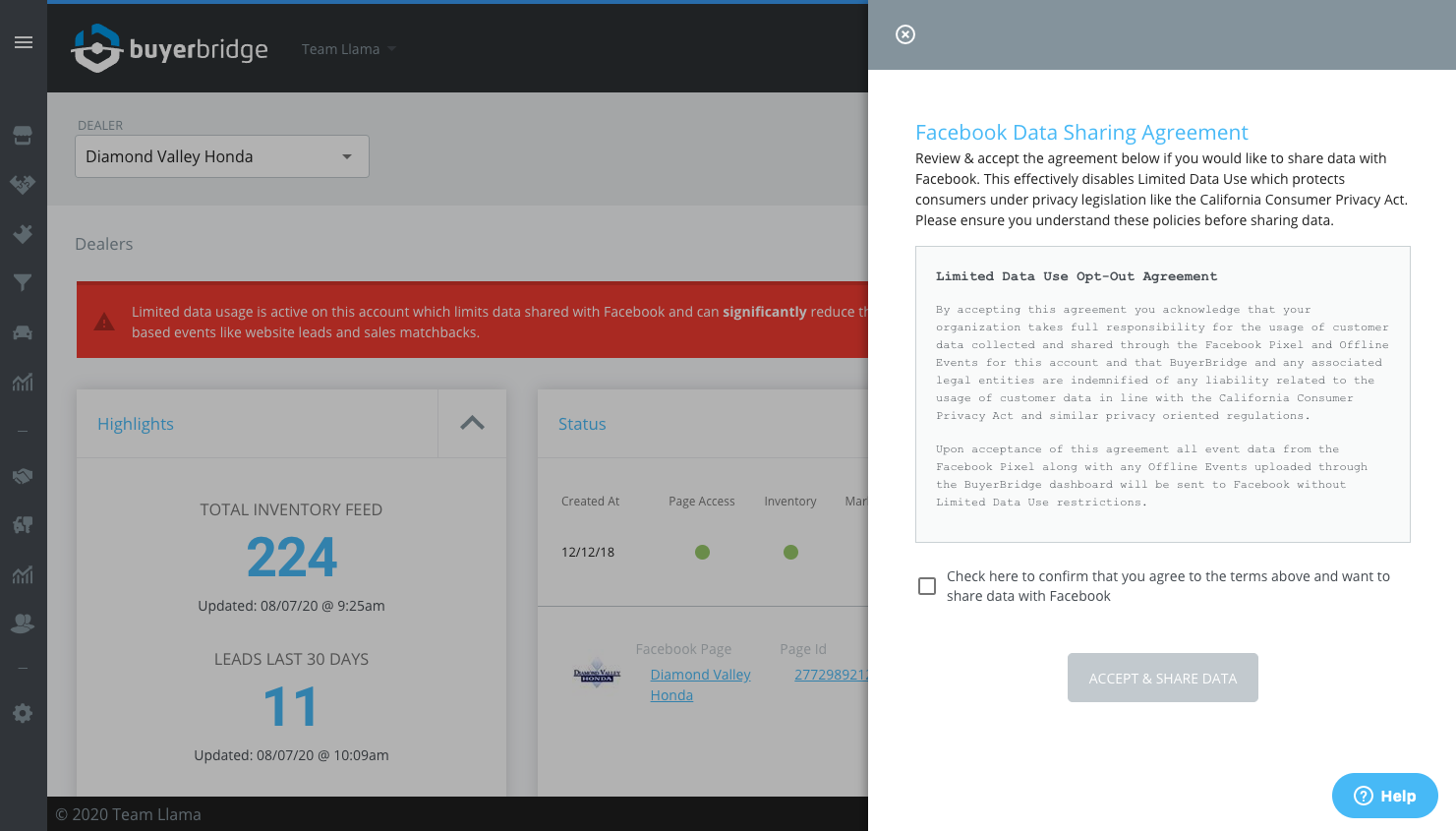 The Facebook Data Sharing Agreement is outlined in the window.
If you elect to not OPT IN to Limited Data Usage, you will not be able to retarget off-Facebook activities and users in California. In addition, the ability to attribute offline events (e.g. sales matchbacks) to advertising efforts can be significantly reduced.


NOTE: It is our recommendation that you work with your legal teams to understand and make decisions in regards to these new policies. We cannot advise on your course of action, but merely wish to educate on each policy so you can make an informed decision. If you have any questions, please contact your BuyerBridge Account Manager.