The goal of our Budgeting Tool is to ensure that our agency partners are optimizing their budget spend.

This tool requires agencies to set their Monthly Budget Goal, and from there automatically generates the following: Projected Spend, Spend to Date, Current Daily Budget, Average Daily Budget, Suggested Daily Budget, and Suggested Daily Adjustment.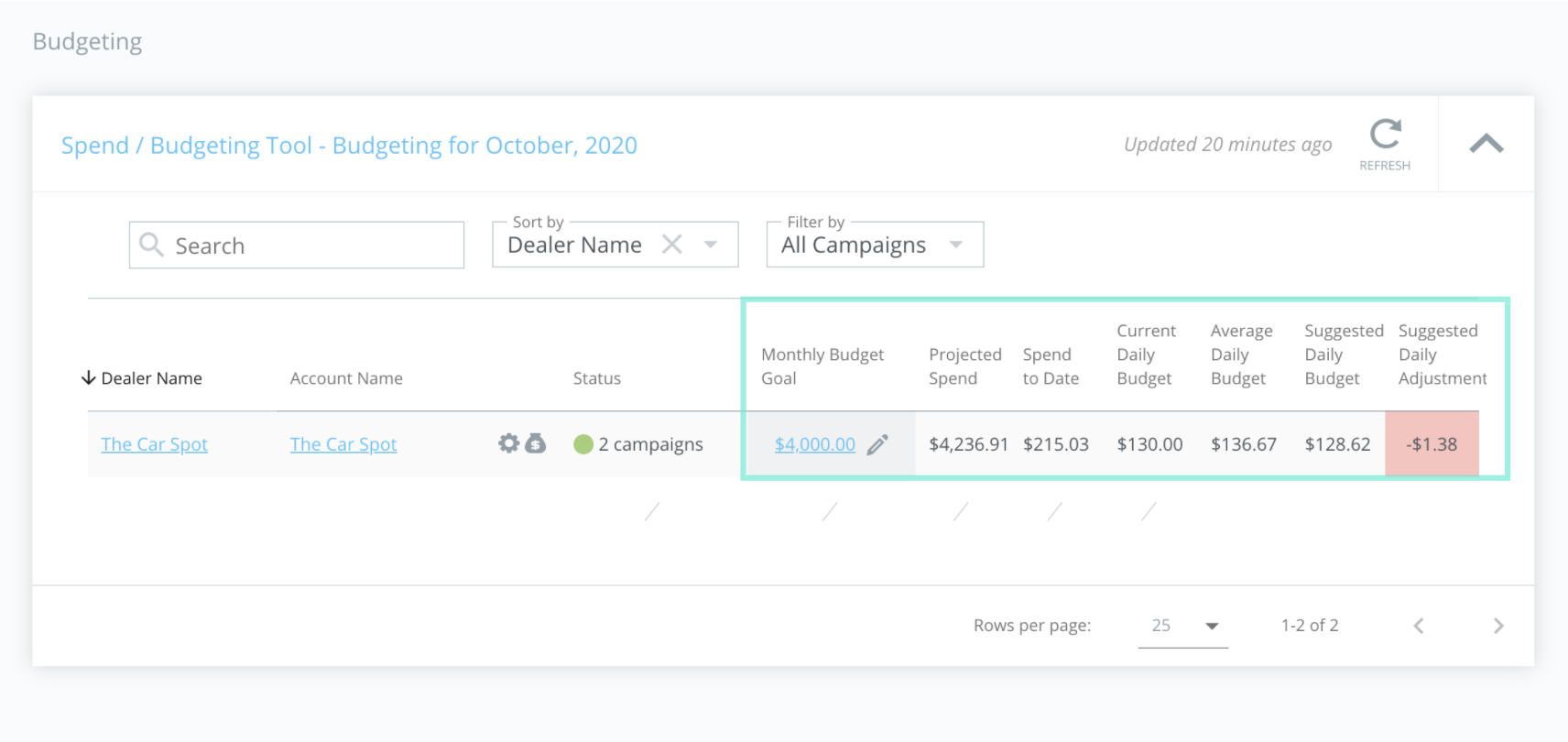 We just recently launched a quick update to the Budgeting Tool to make budgeting for your agency's clients easier and more efficient. The following new features were added:
In the Facebook Budgeting Report, you can now click the dealer name and it will bring you directly to the dealer dashboard.
And if you click the account name, the system will now immediately drive you into the account manager associated with the dealership, where you can go in and make necessary changes.
For each account name in the Budgeting Tool, we added a cog icon ⚙️ that immediately links to your Business Manager settings page! This way you can make changes such as Deactivate, or Edit the account.

We added a money bag icon 💰 that links to the Payment Settings for the account so that you can immediately reset your ad account budgets, set your account spending limit, add a payment Method, etc.

If you want to change your Monthly Budget Goal, we added the ability for you to change the Monthly Budget Goal within our platforms Facebook Budgeting Report.




Lastly, we removed a few buttons that were located off to the right of the Budgeting Report that weren't providing significant value to our users.
We hope you agree that these updates make our Budgeting Tool even more powerful! BuyerBridge will continue searching for new features that enhance our current tools and provide more user value.