Introducing Our New Product Packages
BuyerBridge has now migrated all of our current products to NEW product packages designed to help you scale! In doing so, dealers will be able to easily identify which "bucket" they fall into.

Our new product packages allow your agency to spend more time consulting and less time on the technological side of things. They are designed to make licensing and product activation easy.

We've even recategorized our playbooks and billing to make sure activating advertising for your dealer clients is simple.

The new product packages have been categorized into 4 main packages: Marketplace, Marketplace+, Advertising, and Advertising+.

For any questions, comments, or concerns regarding the pricing for our new product packages, connect with your account manager!
Here's everything you need to know:

Navigating to the New Packages
During the Onboarding process, you'll be prompted to select one of the product packages. It's a simple and upfront selection...you can elect to run Marketplace only, Advertising only, or both, and then select either the standard packages or the enhanced, "+," versions!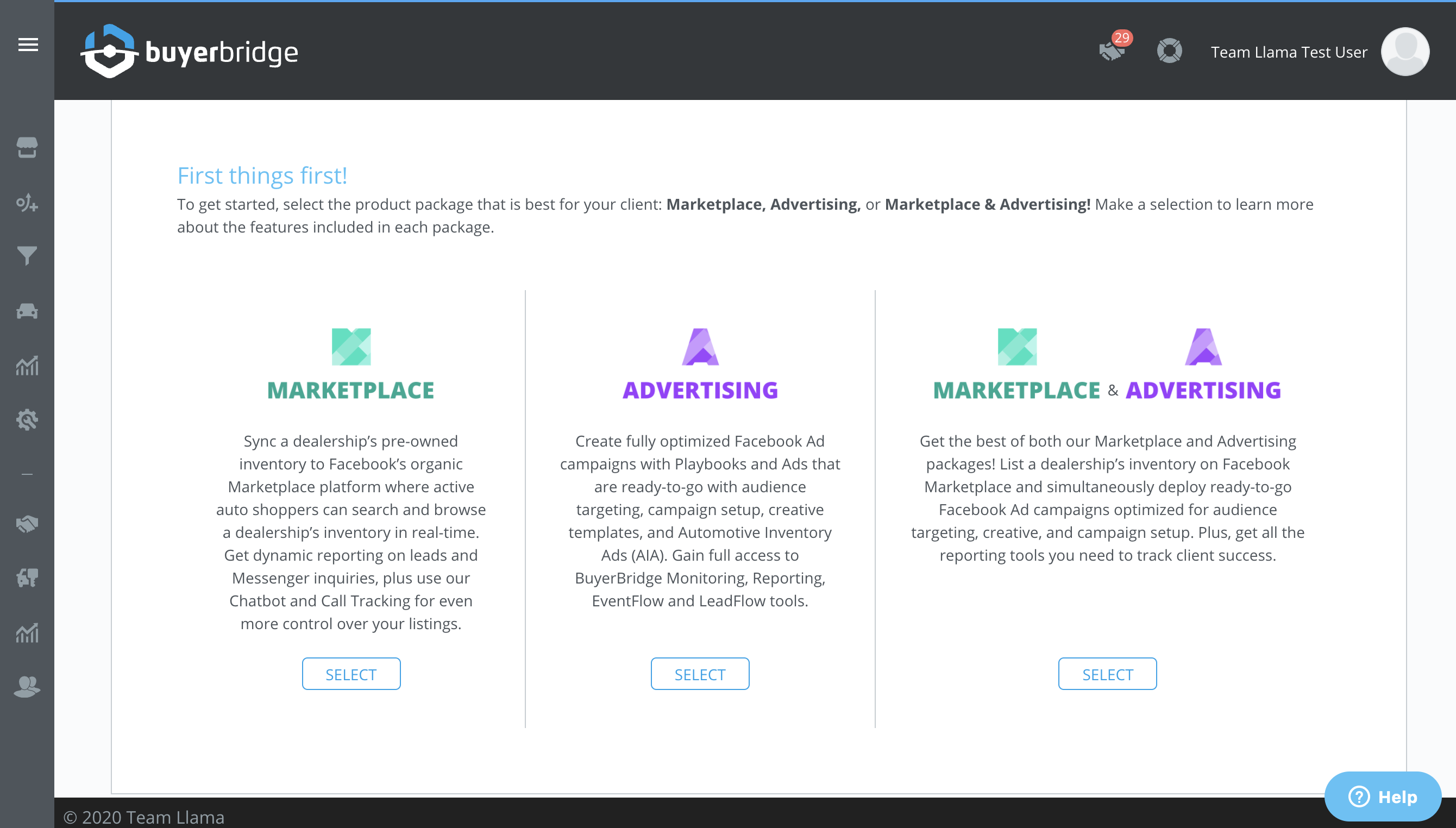 Access the existing product package(s) for an account through the dealer dash, and locate the Product area. Here you will have visibility into the accounts current product package and can manage, remove, or add products.

To add or upgrade your current Product, click "Choose" under the Product category you wish to select, and then "Let's go!"



Additional products chosen will be marked as "Selected."
To remove or deactivate your product package, click "Subscription" under Current Product. You can select the product(s) you wish to remove and hit "Remove Products," or "Deactivate Account."


Exploring Each Package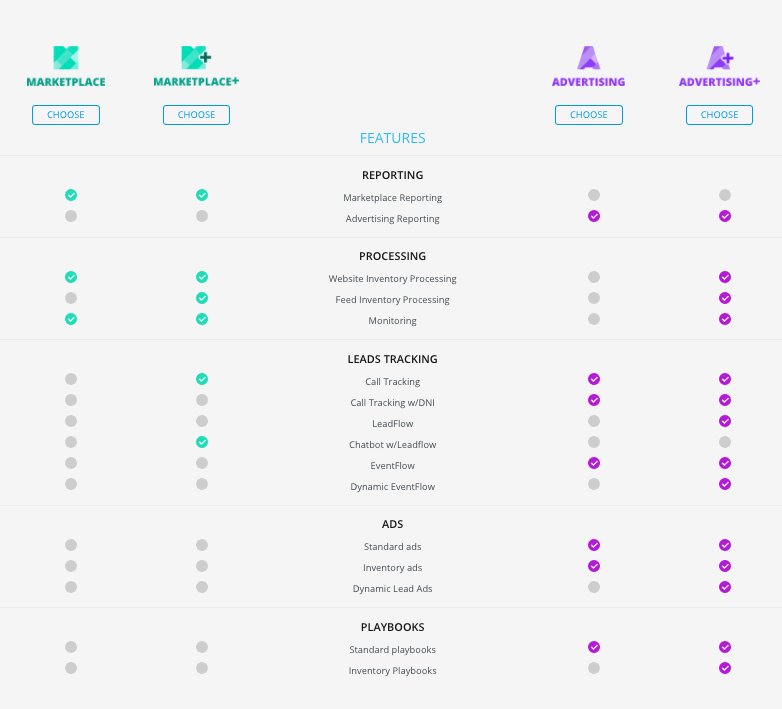 Marketplace
This package enables Marketplace listings for your clients, where you can easily sync a dealership's pre-owned inventory to Facebook's organic Marketplace platform — no ad spend required!

Active auto shoppers can browse a dealership's inventory in real-time, and you and your client will receive dynamic reporting on listings with stats including Listing Views, Average Response Rate and so much more!
Reporting

Processing

Website Inventory Processing
Monitoring
Marketplace+
Want to take your Marketplace package to the next level?

With Marketplace+, you'll be able to sync a dealership's pre-owned inventory to Facebook's organic Marketplace platform without any ad spend, just like in the base Marketplace package.

However, in addition to all the powerful features in the base package, you'll get extra insights on leads and Messenger inquiries from Marketplace, and can use our Chatbot and Call Tracking for even more control over your listings!
Reporting

Processing

Website Inventory Processing
Feed Inventory Processing

Monitoring



Leads Tracking

Call Tracking
Chatbot w/ Leadflow


Advertising
Using this Advertising Package your agency can create fully optimized Facebook Ad campaigns!

Access Playbooks and Ads that are ready-to-go with audience targeting, campaign setup, creative templates, and Automotive Inventory Ads (AIA).

Get insights that you won't get anywhere else with the Facebook Advertising report generated by BuyerBridge that includes a Facebook Ads Funnel, Offline Performance (if you've uploaded offline events), Facebook Ads Overall Stats, and Campaign Stats!

You'll have complete access to BuyerBridge Monitoring, Advertising Reporting, and LeadFlow tools.
Reporting

Leads Tracking

Call Tracking
Call Tracking w/ DNI
EventFlow



Ads

Standard Ads
Inventory Ads



Playbooks
Advertising+
Enhance your current Advertising product with this "have it all" package!

In addition to ready-to-deploy Playbooks and Ads, every other tool and feature that BuyerBridge has to offer, like Monitoring, Reporting, EventFlow, and LeadFlow tools will be at the tip of your fingers.

With this package, your dealer client will have no limitations and be able to take advantage of all that our platform has to offer.
Reporting

Processing

Website Inventory Processing
Feed Inventory Processing
Monitoring



Leads Tracking

Call Tracking
Call Tracking w/ DNI
LeadFlow
EventFlow
Dynamic EventFlow



Ads

Standard Ads
Inventory Ads
Dynamic Lead Ads



Playbooks

Standard Playbooks
Inventory Playbooks