Facebook has rolled out a few new automotive updates making it easier for dealerships to manage and promote their vehicle inventory...right from their Facebook Business Page!
As an agency, it's your job to help your dealer clients navigate through these changes; which is why we're here writing this - to help you help them!
What's New?
For your dealership client's Facebook Business page:
Advanced "Manage Inventory" tab (dealers can now create, manage, and promote a vehicle catalog from their business page through the "Manage Inventory" tab)
New "Vehicles" tab
Additional "View Inventory" Call to action (CTA) button
For your dealership clients' customers:
New ability to filter by "Vehicles" from the Vehicles tab of a dealership's page
4 Things to Tell Your Dealer Clients About the New Vehicle Inventory Tab (Dealer-Facing)
1. How to Display New Vehicle Listings On The Vehicle Tab of Their Facebook Business Page:
Go to your Dealership's Facebook Business Page
Locate and select the Manage Inventory tab
Navigate to Catalog Listings
Click the Edit Vehicles tab
Confirm you want to show all vehicle inventory on your Page
NOTE: Your dealer client's catalog must include a Page association for this option...they can check the fb_page_id field to confirm their Page is listed.
2. How to Hide The Vehicles Tab From Their Menu:
On Desktop
Go to your Dealership's Facebook Business Page
Navigate to the "Manage Page" menu > Settings
Click Templates and Tabs
Go to Vehicles > toggle the option to the left to hide the tab!
NOTE: This feature is currently not available on mobile.
3. How To Change The Call To Action Button On Your Dealer Clients' Page To "View Inventory:"
On Desktop
Go to your Dealership's Facebook Business Page
Hover over the blue CTA button on the right > click Edit
Click View Inventory
On Mobile
Go to your Dealership's Facebook Business Page
Click on the blue CTA button located on the right > click Choose a Different Button
Under the Buy Products or Services section, select the View Inventory option
Click Save
4. How to Handle Duplicated Listings:
Sometimes you will see duplicated listings on the tabs, which means that multiple agencies are posting the same listing...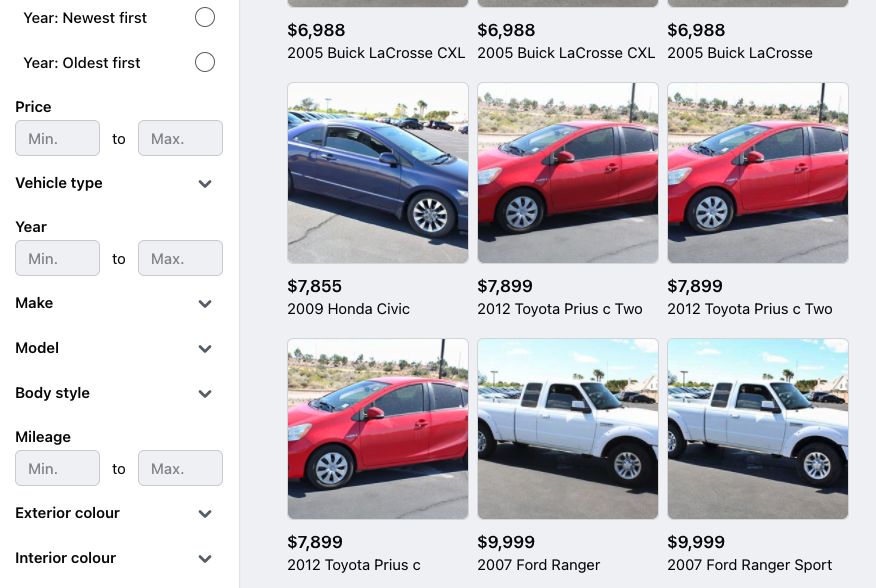 To test this: simply message each of the multiple listings and you will be able to see the different referral links!
Ensure Your Clients Can Use This Function
To use this function, your dealer must have vehicles currently listed on Marketplace - and for those that do, these new features will automatically be available and created for them.
If your client does not currently have vehicles listed on Marketplace, they will need to add listings to Marketplace to gain access to this new feature!