As we announced at the start of Q3 2021, we've been hard at work prepping the BuyerBridge platform for expansion and offering additional advertising channels other than Facebook & Instagram.
We have made so much progress and are excited to say we now offer Snapchat Inventory Ads in BuyerBridge!
During this testing period, we'll be fine-tuning Snapchat Ads within BuyerBridge to make sure our platform is optimizing for this new channel and our agency partners.
Snapchat Inventory Ads: The Benefits
Dynamically display multiple vehicles in a single ad with Snapchat Inventory Ads and help dealers reach the 40% of Snapchat users who do not use alternative social platforms on any given day.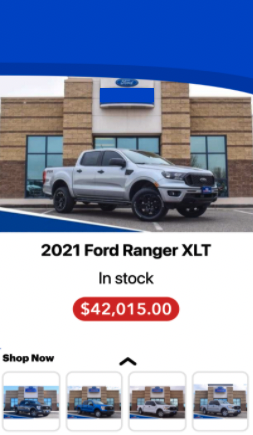 Access prospecting audiences that will be narrowed down to specific in-market shopper segments like Re-engagement and Pixel Custom Audiences, plus leverage Datalogix and Edmunds data.
Run Snapchat Ad campaigns that are based on user engagement on the app + your dealer client's website to maximize reach and drive more traffic to your client's inventory.
Using Snapchat's "Swipe Up" calls to action, engagement is effortless; users can easily swipe up on an ad to call/text dealers OR view (both new + used) VDPs on their website!
Click here to check out all of the advertising channels that will soon be available to all partners in BuyerBridge.
Snapchat Advertising In The BuyerBridge Platform
Although users will not have immediate access to these new Snapchat features inside of the BuyerBridge platform, we wanted to give you a sneak peek into what we've been working on behind the scenes.
Onboarding Dealers To Snapchat
Snapchat has been added to Onboarding as "Coming Soon" for now, but when the time comes to onboard the new channel, the process will be a little different.
Once we have officially launched Snapchat in BuyerBridge:
Agencies will be able to start onboarding their dealers to Snapchat directly through the dashboard once it is available.
There will be a Snapchat-specific step in onboarding that hosts a Hubspot form for agencies to fill out and complete. From there, our Ops team will be able to begin working on setting up all the Snapchat assets required to start running Ads for dealers.
Snapchat Play Deployment
The Snapchat Play Deployment Tool allows agencies to easily set up and deploy Snapchat campaigns for dealers that include ready-to-go ads, precise audience targeting, and more - all in just a few steps.
This tool will offer two different "Plays:" Snapchat Prospecting & Snapchat Retargeting.
Click here to read about our Snapchat Play Deployment Tool!
Snapchat Dashboard
We have designed a Snapchat Dashboard which will be located under a "Snapchat" section in the navigation menu of the platform.
Keep in mind that you'll only ever see this dropdown for your clients who are running ads on Snapchat through BuyerBridge!
👉 Don't worry our old dashboard has not gone away it has just gone global! It will include all channels that are active with BuyerBridge where you can compare metrics.

Click here to learn more about the Global Dealer Dashboard.
The Snapchat Dashboard includes the following components:
Snapchat-Metric Funnel + Graph
Snapchat Advertising Overview
PDF Report Builder
Snapchat-Metric Funnel + Graph
Visual representation of your dealer's Snapchat advertising efforts + outcomes, from Impressions and Spend to Leads and Cost Per Lead (similar to what was in place for Facebook).
Snapchat Advertising Overview
Displays key metrics such as Swipe Up Rate so you can identify how the channel is performing at a quick glance.
Compare Snapchat Metrics
Run various Snapchat Advertising Metrics against each other for your dealer client.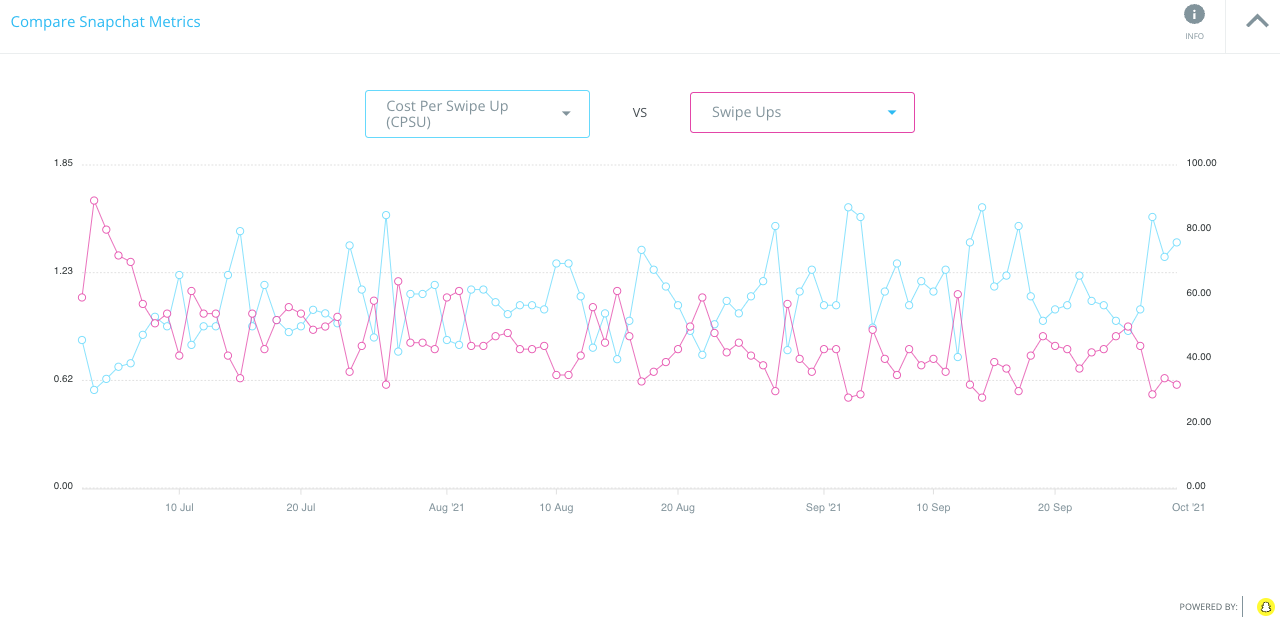 REMINDER: Users will only have visibility into the Snapchat Dashboard once it has been released AND if they have onboarded a dealer to Snapchat.
PDF Report Builder
When this channel becomes available, agencies will have the ability to quickly build reports/report templates using the Snapchat data we capture.
You will be able to use the PDF Report builder for Snapchat the same way you are able to with Facebook data, now.

Click here for more details on our PDF Report Builder for Facebook and see how you'll be able to use it for Snapchat.
Snapchat Channel Settings
Our team created a Snapchat Channel Settings panel within the dashboard for your dealer clients who are running Snapchat Inventory Ads (when they are launched in BuyerBridge).
The Snapchat Channel Settings will show their Snapchat Ad Account, Pixel ID, and Catalog once they have been created; as well as link them out to the Snapchat platform.
Stay Tuned!
We know this is all exciting, and as much as you might be ready for Snapchat, the BuyerBridge team is working hard to make sure that Snapchat Ads in BuyerBridge are ready for you.
Stay tuned for more information on when you can expect Snapchat Inventory Ads to become available for your agency's clients, and additional Snapchat features within BuyerBridge to look forward to!