Now that you have completed your client's onboarding with BuyerBridge, it is time to get their ads set up and running. This article will walk you through the step-by-step process of deploying a Playbook.
Need a little more information on Playbooks? Learn more here!
Time To Deploy
The most important thing to getting a client up and running is choosing a playbook that best meets their needs for advertising.
Note: If you need help selecting the right playbook for your client's needs then we are here to help you, please connect with your Partner Experience Manager. We will take a look at the goals of your client and help select the playbooks that best meet those needs.
Step 1: Locating The Playbooks
First, we want to open up the dashboard and select the client account for which you will be deploying a playbook.
Once you log in to the dashboard, you will use the lefthand menu and find Organization > click All Accounts.
After you have clicked All Accounts, you will see a list of client accounts that you have onboarded with BuyerBridge.
Click the account you are deploying the playbook for

This will open the dashboard for that specific account.
You will see the option for Playbooks > click Browse from the drop-down menu

Selecting Browse will allow you to see the available Playbooks in the Playbook library.
Note: By default, The Playbook library shows you our more popular playbooks at the top as well as presents them in numerical and alphabetical order. You have the ability to filter Playbooks by Channel, Vertical, Type, and more.
Step 2: Playbook Selection
Now that you have viewed the Playbook options and have chosen which one the client would like it is time to deploy it.
Start by clicking the Blue Deploy Button

This will prompt channel selection to display
Choose which channel to deploy the selected Playbook on.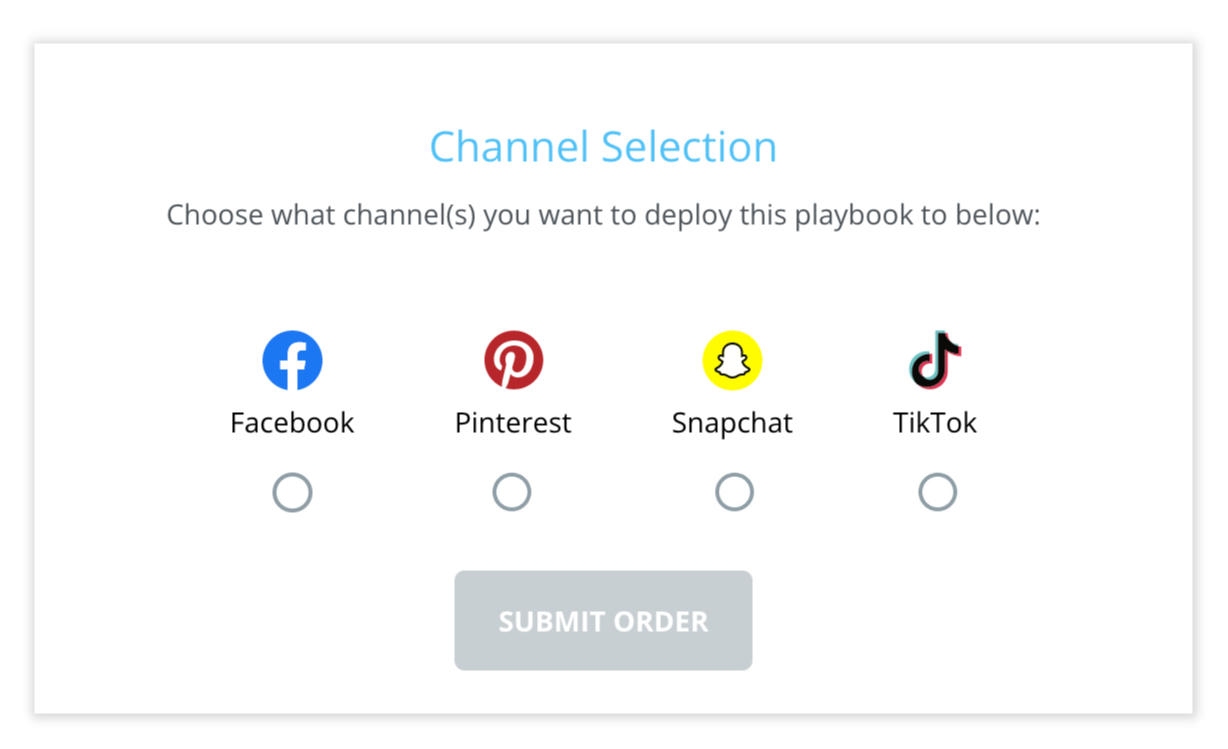 Note: Most of our Playbooks are able to be used on multiple platforms. In the example above Facebook is the only channel available at this time. If you would like to expand your channels of advertising please reach out to your Partner Experience Manager to discuss everything needed for those channels.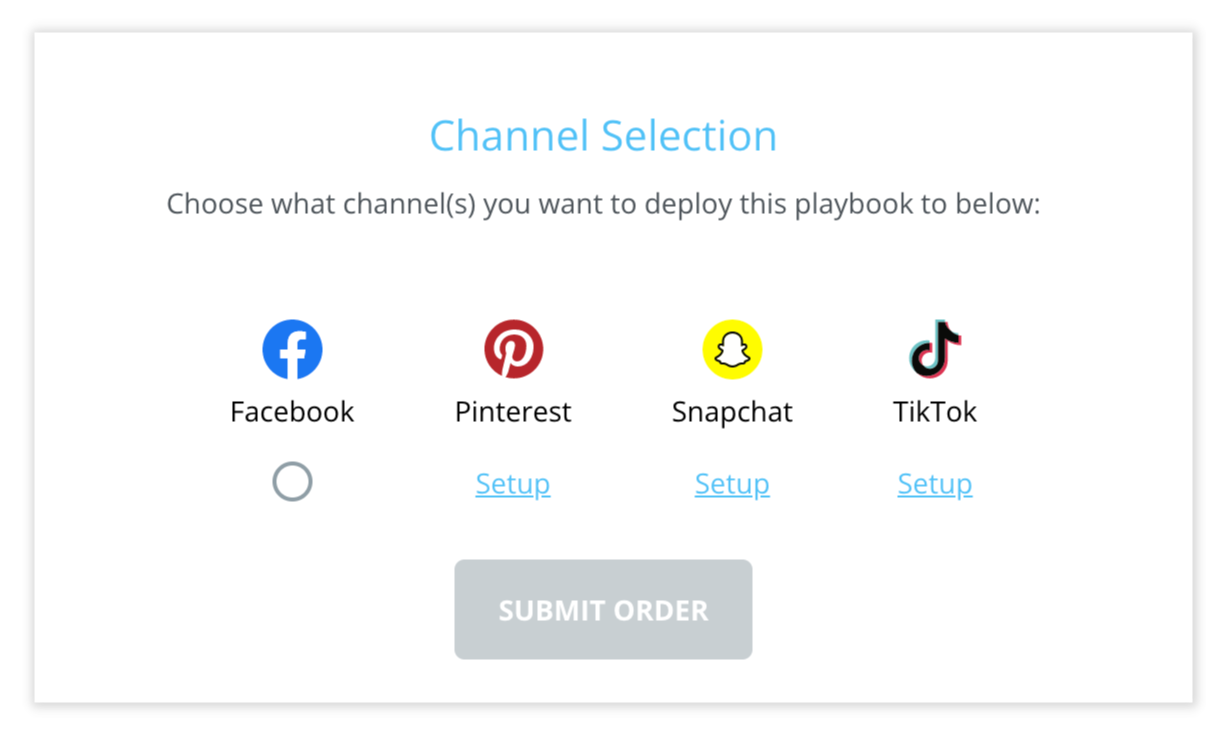 Step 3: Setting Up Targeting & Budgeting
After choosing the channel you will be launching your client's Playbook, it's time to set up targeting and budgeting.
Targeting
The first part that you will set up is Targeting.
By default, the toggle for a single targeting radius will be on. The single targeting radius will be used when you want all ads to have the same targeting radius.
If you do not want your targeting set up this way you can toggle this setting off…
If you toggle single radius targeting off, you will then have the ability to create multiple targeting radii up to 4 zones.
👀 Important: All targeting must be less than 50 miles.
After you have set the Targeting, you can now set the Budget.
Budgeting
You can set your daily budgets specific for each ad set that is associated with the Playbook selected.
In this example, there will be 3 campaigns that are within this Playbook. You will need to set the budget for all 3 campaigns to proceed.
Note: By default, our system sets the daily minimum budget.
After you have completed these steps, click the blue "Continue" button to review your selections.
Step 4: Reviewing Set Up & Deploying

If the selections that were made are all set to go in the BuyerBridge system you will see the blue "Deploy Play 🚀" button and need to click it.
After clicking Deploy Play, the ads will start to be built into the Ad account that has been selected or created in the onboarding process.
To watch the progress of the deployment by going back to the lefthand menu > click Playbooks > choose Manage.
Important: If something occurs that causes the Playbook to not deploy you will see this message:

You can solve this error by clicking the blue hyperlinked text to submit a ticket to the Buyerbridge support team, who will identify and work on the issue...
When the playbook is deployed fully you will receive an email letting you know that the Playbook deployment is complete. Once you receive that email you will be able to go into the Ad account and be able to set the campaigns to go live.
The campaign is LIVE, which means you have completed the playbook deployment process!
If there are any issues or you are in need of any assistance you can always contact support by emailing: Support@buyerbridge.com.