BuyerBridge's Playbook Library houses over 150 Playbooks for all of your clients' advertising needs.
Our team of experts created the Omni-Playbook Library to help clients go to market with proven ads that reach the right audience, on the right platform, with the right creative...in just a few clicks!
Jump to section: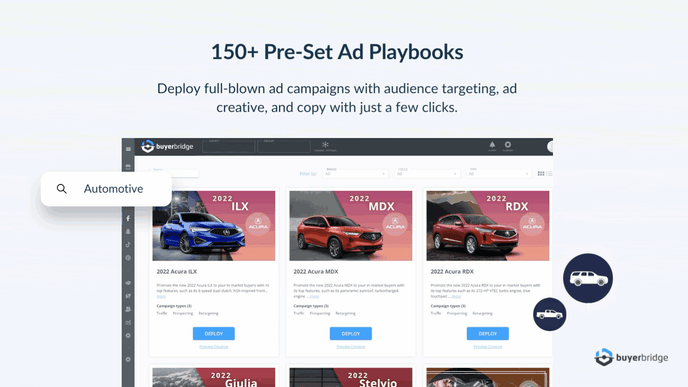 What Are BuyerBridge Playbooks?
Playbooks provide your organization the ability to help clients go to market fast (in just a few clicks!), and include fully optimized, ready-to-deploy ad campaigns with:
🖼 Ad Creative
📝 Ad Copy
🚀 Campaign Strategy
🎯 Audience Targeting
And they're all located in ONE place: the BuyerBridge Playbook Library.

To access Playbooks for any of the available channels in BuyerBridge:
From the left-hand navigation menu, click PLAYBOOKS > BROWSE.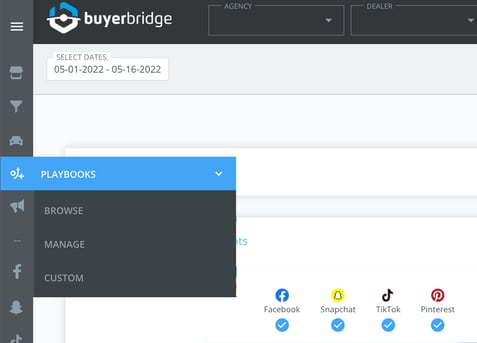 How To Filter and Find Playbooks
With SO many Playbooks, we've made it easy for you to locate the perfect Playbook for your client with filtering capabilities.
At the top of the library, you can quickly filter the Playbook Library by: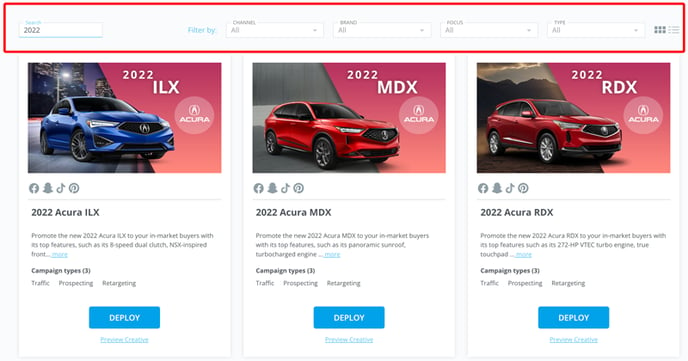 We're aware that it's hard to run ads without seeing them first…so we've made sure that you have visibility into the Playbooks Ads.
How To Preview Playbooks
Want to get an idea of what you'll be getting when you deploy a specific Playbook?
To preview the ads within a specific Playbook:
Locate the Playbook you want to view the ads for > click "Preview Creative" and a slide-out panel will display with ad mock-ups..
Note: Right now, this preview feature will only show you what the ads will look like for Facebook and the different placements on Facebook. We are actively working towards making these previews Omni-Channel!
Omnichannel Playbook Categories
Right now, Playbooks are only available for the Automotive vertical/industry.
Jump to specific Playbooks using the links below:
BuyBack
Help dealers reach shoppers who already have desirable model lines and entice them to outright sell their vehicles to your dealer-clients! With our Buyback Playbook, your agency can provide an immediate solution to dealerships who need more pre-owned inventory fast!
2022 Buyback (US and Canada)
2022 Buyback (Spanish)
Click here to access our Buyback agency sales assets that you can customize with your branding, logo, etc. and use to promote the Buyback Playbook to dealers!
OEM-Specific
Make it easy for your dealers to showcase their OEM-specific brand and what sets them apart from their competitors. Reach local in-market shoppers for any dealer and help them educate shoppers around their OEM vehicle line ups PLUS their OEM's unique value propositions.
The different OEM-Specific Playbooks include:
OEM Branding
OEM Service
OEM Custom Order

OEM-specific Custom Order Playbooks are currently only available for select OEMs, like Ford, Cadillac, Chevrolet, and CDJR.
Top Model Line
Our Top Model Line playbooks provide your clients with the ability to promote their top model lines, the advanced features specific to that model, and reasons why they should purchase that particular vehicle.
Custom Order
Give your dealer-clients a way to make more $$$ and sell more units than what they have on their lot. The Custom Order Playbooks help dealers provide shoppers the opportunity to get the exact car they want with ads that include promoting quick turnaround time (ex. Delivery in 8-10 weeks) and offer incentives for custom order vehicles...
Tax
Promote your dealer-clients inventory to shoppers who have just received their Tax Returns, and entice those shoppers to buy a new vehicle, or refinance/improve their current vehicle!
Service
Target your dealer-client's prospective and existing customers with ads that promote their current service options,offers and advantages of getting service from them..
Our Service Playbooks include:
At-Home Service
General Service
Generic Hiring
We've made hiring for your clients easy! We have created a generic playbook that can be used by any dealer-client, regardless of OEM, to help them fill positions where they need, including: General hiring, Sales Reps, Service Advisors, Lot Attendants, and more.
Automotive Inventory Ads (AIA)
We offer 18 different AIA Playbooks that can be deployed to help dealers advertise their new, used, or new and used inventory, depending on what their goals are; whether that's Lead Generation, Prospecting, Retargeting, or a combination!.
Lead Generation
Place your client's vehicle inventory in front of their target audience, and automatically display the vehicles most relevant to them. These playbooks are designed to target prospective customers, then retarget them for the full-funnel experience.
AIA Off-Facebook
Turn your clients' inventory into Facebook Automotive Inventory Ads that send their target audience off-Facebook to a VDP on the dealership's website.
AIA Off-Facebook Playbooks include:
AIA - Off-FB
AIA - Off-FB - Body Styles
AIA - Off-FB - Full Funnel
AIA - Off-FB - Full Funnel Body Styles
AIA - Off-FB - Full Funnel New
AIA - Off-FB - Full Funnel New & Used
AIA - Off-FB - Full Funnel Used
AIA - Off-FB - New
AIA - Off-FB - New (Spanish)
AIA - Off-FB - Used
AIA - Off-FB - Used (Spanish)
AIA On-Facebook
Transform your clients' inventory into Facebook Automotive Inventory Ads that keep users ON Facebook using On-Facebook VDPs to reduce friction and create a seamless shopping experience.
AIA On-Facebook Playbooks include:
AIA - On-FB
AIA - On-FB - New
AIA - On-FB - New (Spanish)
AIA - On-FB - Used
AIA - On-FB - Used (Spanish)
Coming Soon: Omni-Vertical Playbooks
Although we have a ton of automotive Playbooks that are able to be deployed on any available platform in BuyerBridge, our team is currently working on something super exciting…
Omni-Vertical Playbooks!! AKA the ability to deploy Playbooks for ALL verticals on ANY channels within BuyerBridge.
Stay Tuned For More…
Our Ad Ops team is incredible and CONTINUOUSLY adding more Playbooks to the Playbook Library - which means we'll be continuously updating this article to accurately reflect which Playbooks are available, and any changes!
Have questions about a Playbook? Email support@buyerbridge.com and we'll be happy to help.