One of our favorite features, and one of the many advantages of BuyerBridge's AdTech, is that we provide BuyerBridge partners with the opportunity to increase brand awareness + credibility via Whitelabeling!
What does Whitelabel mean? To Whitelabel a product means to take a product produced by one company and completely rebrand it so that it looks as though a different company had created it.
Organizations that Whitelabel BuyerBridge will gain access to their very own version of the platform - one that replaces all instances of BuyerBridge with their brand, logo, etc.
(Did someone say "continued brand awareness and increased credibility?!")
Jump to article sections using these quick links:
Inside of the Whitelabeled BuyerBridge Interface
All BuyerBridge branding will be replaced to represent your brand. 👏
Anywhere that the BuyerBridge logo is present on the platform will be removed, and will instead display YOUR custom logo.
And the entire color scheme of BuyerBridge will be updated to your brand's primary colors!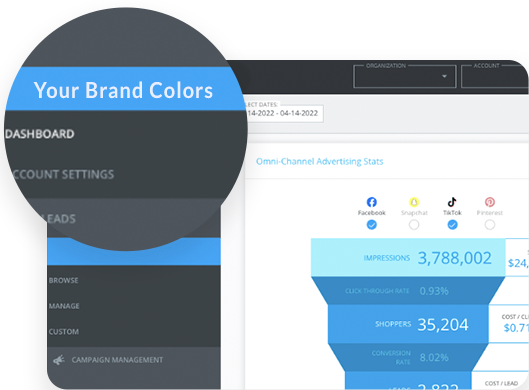 The BuyerBridge platform and all features like the dashboard, reporting, etc. will be hosted on your own custom subdomain (e.g. app.youragencyname.com), which will also display your custom Favicon next to the URL.
But those aren't the only benefits of Whitelabeling BuyerBridge - there are additional Whitelabeling features included that we know you'll love…
Whitelabel Features
When BuyerBridge is Whitelabeled by an organization, access to exclusive Whitelabel features within our platform is unlocked…
The following features are included in the Whitelabel package:
Whitelabeled PDF Report Builder
Whitelabeled MarketAnalyzer Tool
Whitelabeled PDF Report Builder
BuyerBridge's PDF Report Builder provides agencies with a way to create and download PDF Reports that detail the performance of your client's ads across social media.
By Whitelabeling BuyerBridge, you'll unlock the ability to create CUSTOM performance reports using:
Your agency's branding
Personalized metrics
And custom report templates!
Learn more about our custom PDF Report Builder here.
And that way, when you deliver the PDF report to your clients, they'll know EXACTLY who put the beautiful report together - YOU!!
Whitelabeled MarketAnalyzer Tool
Our MarketAnalyzer Tool is a free tool to help agencies identify which social channels are relevant to their client's market, and how to maximize their target audience and ad spend across channels.
By default, our MarketAnalyzer tool is branded with the "MarketAnalyzer" logo, color scheme, and URL (marketanalyzer.io) - but not for partners who Whitelabel the BuyerBridge platform!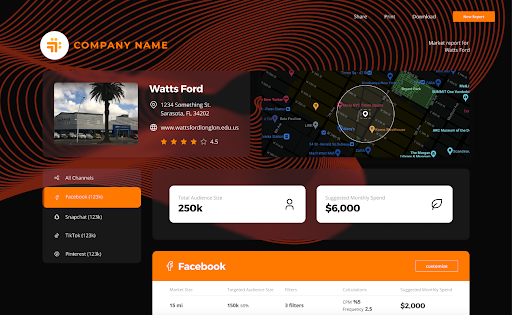 BuyerBridge Partners who Whitelabel our platform will be able to utilize a Whitelabeled version of our MarketAnalyzer tool!
We also offer our partners the ability to also solely Whitelabel our MarketAnalyzer Tool. To learn more, read: "Whitelabeling the MarketAnalyzer Tool"
How to Whitelabel the BuyerBridge Interface
Ready to Whitelabel the BuyerBridge platform and leverage it as your own? Simply reach out to your Partner Experience Manager or email support@buyerbridge.com.
Here's what to expect after contacting the BuyerBridge team regarding Whitelabeling:
First, we will add an addendum to your existing contract
Then, you will be provided with a list of deliverables that we require for Whitelabel setup
​​Here are the items needed for the Whitelabel setup:

PNG logo for use on a dark background (to be used in the app header)
PNG logo for use on a light background (for future use)
PNG icon (square format to be used as a Favicon; 32x32 px)
Primary brand color HEX (to be used for branding in the dashboard & analyzer)
Choose the subdomain that will be used to access your Whitelabeled dashboard
We will create a CNAME within your DNS using details that are provided. You will need to add the CNAME to your DNS and confirm completion so a certificate can be issued. Once a certificate is created, we will create an alias domain
We will create a CNAME record pointing your subdomain to the alias domain. You will need to add the CNAME to your DNS. (NOTE: The CNAME record in step 6 will need to continue to exist.)

NOTE: For steps 6 & 7, our Support Analyst, Chaz, will set up time to help you successfully add both your original and alias CNAME to your DNS.
Once we receive all of the items required for setup, our Support Analyst, Chaz, will need access to the DNS record through your site provider. (Make sure to know who runs your site/has access to your website hosting!)
Why do we need access to the DNS Record? To generate scripting that will be added to the DNS record to whitelist your domain and test the link to ensure it directs successfully.
The last step will be for our Support Analyst, Chaz, to implement back-end changes and add all of your custom assets like logo, colors, etc.
When everything is all set on the back-end, you will receive an email from chaz@buyerbridge.com requesting your approval and confirming completion.
Our team is awesome…so you can expect the turnaround time to be ~24 hours from when deliverables were received.
Want to Whitelabel BuyerBridge?
Whether you're already a BuyerBridge Partner or brand-new to BuyerBridge when you're ready to fully Whitelabel BuyerBride: Contact your Partner Experience Manager or email support@buyerbridge.com.
In just 24 hours, you can put YOUR name behind our powerful, constantly evolving, Omni-Social AdTech platform.