🎉 New Product Features
Offline Matchback Report


A new pre-configured page has been added to Report Builder for Matchbacks that includes Cost Per Unit Sold data.


This report can be created by creating a "New Template" under Reports section of the BuyerBridge dashboard and then adding the Pre-configured "Offline Events Matchback with Cost Per Unit Sold" page.


Channel Settings Update

You can now change a Facebook page via the Channel Settings panel.

This is the same process as it is in onboarding but you can now do it from inside the dashboard without having to re-onboard.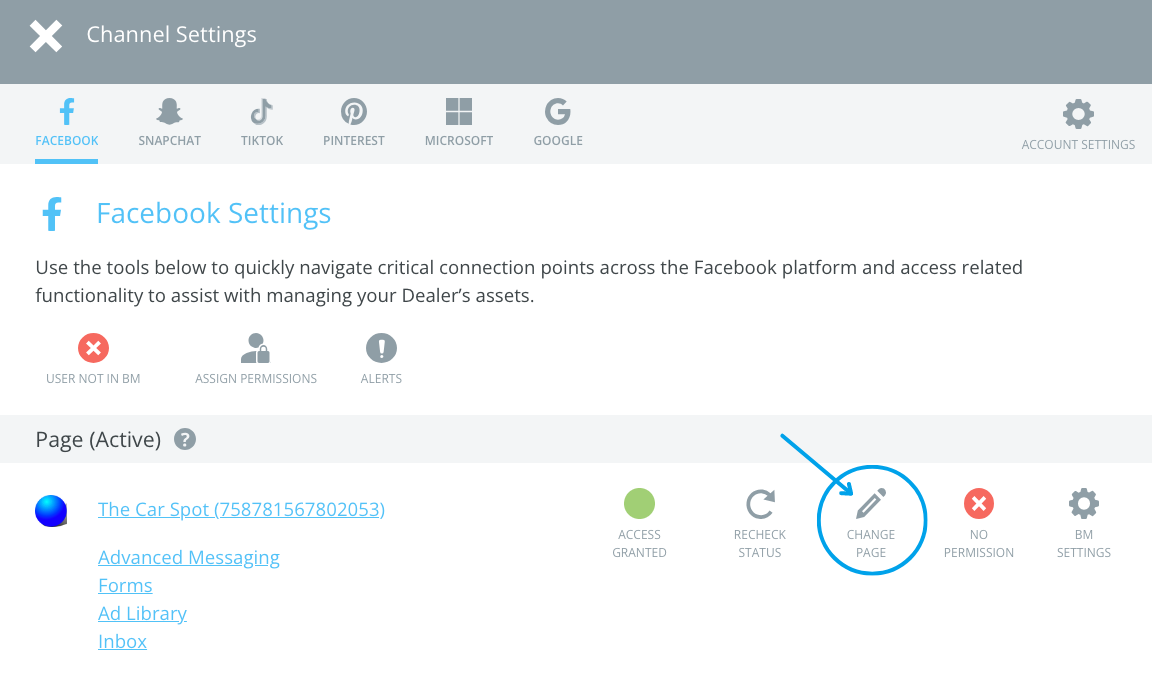 🚀 Coming Soon
Inventory AIA Launcher

The inventory launcher is designed to give you full control over your omnichannel AIA ads — eliminating the need to navigate through playbooks trying to find the one that fits your needs. This new tool will give you a simple step-by-step guide to choosing the right inventory ads for your dealership.

In addition, we're introducing entirely new features like AI-enabled copywriting, full control over-segmentation, making your own lead forms, Facebook messenger support, and more!

New Way To Complete Organization Invites

Users will no longer need to go through Facebook to complete Organization Invite.

This new option will be on by default but if you turn it off when the user creates their Organization, they just have to create a BuyerBridge user + change their Organization name if they want to.
🔍 In Case You Missed It
MSN Autos Premium

Reach in-market auto shoppers with vehicle inventory listings on Microsoft's organic platform.
Curious what the difference between MSN Autos Free Listings and MSN Autos Premium is? Find that answer and more by checking out: MSN Auto Marketplace Premium Listings FAQs.
MSN Automotive Inventory Ads (AIA)

Reach in-market auto shoppers with vehicle inventory listings on Microsoft's organic platform.

Vehicle inventory ads displayed on:

Microsoft Bing.com SERP right rail/ mainline
Bing image results page
Native placements on MSN

Catalog Exports through BuyerBridge

Transform inventory into a catalog for Microsoft AIA
Ready to start MSN Automotive Inventory Ads? Find out How To Get Started On MSN AdvertisingPlus here!
Google Vehicle Listing Ads

Google Vehicle Listing Ads (VLAs) are performance-based, local inventory ads for automobiles and consumer trucks that allow you to display a dealer's new/used vehicle inventory on various Google surfaces.
🔧 Bug, Fixes, and Improvements
Pinterest endpoints have been updated to refresh the authentication token if it expired to prevent issues throughout the dashboard.
The Map step of Ad Launcher now supports Canada targeting for Snapchat.
Resolved a bug with the Map step in the Ad Launcher to allow customized Pinterest postal codes to work properly.
Added a check to the existing Campaign/Ad Set selectors in Ads Launcher to not allow users to select lead generation campaigns to prevent deployment failures as our Ads do not contain the required lead data to successfully build.
Resolved an issue where Ad Launcher would store the previous deployment data if multiple deployments were done in a row.
Resolved an issue with the CPL being incorrect for TikTok on the Sets and Ads tabs in Campaign Management.
An issue with the geo-targeting step of Ad Launcher that was causing the address you searched not to display on the customized map has been corrected.
The search filter on the leads page has been removed due to it not functioning as expected.