🎉 New Product Features
Pinterest is now in the Ad Builder, Ad Launcher and the Ads Library!


When using the Ad Builder to create ads, Pinterest can now be selected


Ad creation for Pinterest will be similar to Meta

Ad Launcher

Create a new campaign or use an existing flow when selecting Pinterest

For a new campaign, you will be able to select from the following objectives:

Awareness
Consideration
Video View

Targeting for Pinterest uses Postal Codes and has the option to use Simple Geo-targeting or a Customized Map

Ads Library

Pinterest will have all of the same features available as the other social channels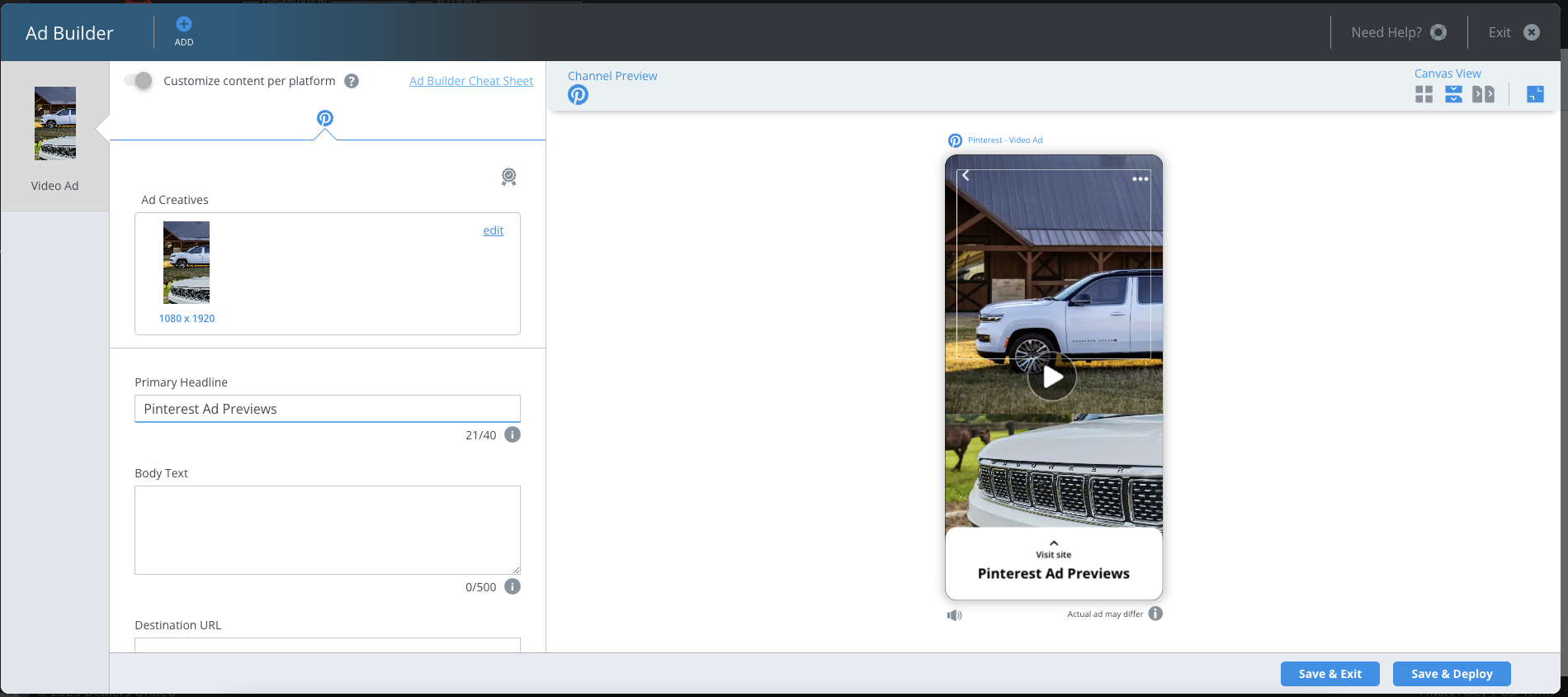 Google & Microsoft Inventory Features

BuyerBridge now offers:

MSN Autos Premium
Reach in-market auto shoppers with vehicle inventory listings on Microsoft's organic platform.
Premium Marketplace includes:

Display used and new vehicle inventory listings in the top 2 rows

Premium Dealer Badging on all placements
Dealership personalization:

Storefront banner, hours, contact info, etc

Access to all Microsoft placements:

Edge, Microsoft Start (Microsoft's News App), Bing, Windows & Outlook

Google Vehicle Listing Ads
Google Vehicle Listing Ads (VLAs) are performance-based, local inventory ads for automobiles and consumer trucks that allow you to display a dealer's new/used vehicle inventory on various Google surfaces, including:


Dealerships' Business Profiles
Google Search

MSN Automotive Inventory Ads (AIA)


Vehicle inventory ads displayed on:

Microsoft Bing.com SERP right rail/ mainline
Bing image results page
Native placements on MSN

Catalog Exports through BuyerBridge

Transform inventory into a catalog for Microsoft AIA
9 New + Updated Playbooks

Here are the Playbooks that were created in May:

Acura Branding (Preview)
8 New Model Line Playbooks, including:

2023 Dodge Challenger
2023 Jeep Grand Cherokee 4xe
2023 Hyundai Venue
2023 Ford F-150 Lightning
2024 Kia Seltos
2024 Kia Carnival
2024 Alfa Romeo Tonale
2023 Jeep Wrangler 4xe
🔍 In Case You Missed It
New Playbook Filters

You can now filter Playbooks by Brand and Focus on the BuyerBridge dashboard for quicker deployment.


Check out the Ads Library article to learn more about the BuyerBridge Playbooks.
Layered Designer (BETA)

Design your own creative and add/customize text, shapes & vehicle "jellybeans" easily with the Layered Designer.



NEW TikTok Features


Shopping ads
TikTok shopping ads are an all-in-one ad format that utilizes video paired with inventory to help maximize sales. These ads are designed to combine new automation and smart functionality with previous ad formats for a seamless purchase journey.

Zip Code Targeting
TikTok has begun a beta test with ZIP code targeting (open to BuyerBridge)!

Target by:

One ZIP code
Bulk upload up to 1,499 ZIP codes!
Pinterest Onboarding is LIVE


BuyerBridge users can now fully onboard Pinterest through their dashboard.

Need help? The Pinterest Onboarding article will help guide you through the process.
🔧 Bug, Fixes, and Improvements
In the Ads Library, we added 3 new ownership filters for ads, assets, and designs tabs:

My Ads (or assets/designs, depending on the selected tab)
My Organization Ads
BuyerBridge Ads

Added an edit button to the Ads Library Ad Preview screen

This will allow the user to edit an ad from this screen without having to go back to the search page for ads

You can now select Grid Vertically, Horizontally, or View All by clicking the Fit option to view Ad Previews in the Ads Library
Updated the Vehicle Performance Report to now include Year and Vehicle Trim columns as well as additional filtering options for Year, Make, Model, Trim, Condition, and Status
Updated the following in the FB Organization Advertising report:

Corrected the Leads / Clicks calculation
The number of On-FB leads when downloading the CSV will now match what is displayed in the UI

Resolved an error where the Secondary Color was not saving properly on the Agency Settings page
Made adjustments to the Facebook Organization Budgeting page to speed up the loading time of the page

This should prevent the page from requiring multiple re-loads to load the proper data.

We have now added a Create button on top of the table in Campaign Management
Fixed an issue with the Conversion rate showing up as incorrect on the Pinterest Organization Advertising report
Resolved an issue with the TikTok leads not showing correctly in Campaign Management for Ad Sets and Ads
Updated the tooltips in Ad Builder to reflect the proper name per Channel field
In Ad Launcher, budgets are pre-populated to $20 per channel by default

Users are able to edit the budget amount

In Ad Launcher, when a user clicks to set a start date, it is pre-populated to the current date and time
In Ad Launcher, when a user clicks to set an end date, it is pre-populated the field to be 30 days from the current date and time
A new pre-configured page has been added to Report Builder for Matchback data.

This pre-configured page can be added to any existing report or used in any new reports that get created
You should be able to add this to the PDF report that we are using for the monthly reports so it will automatically come in next month's reporting file

We have moved the API calls to retrieve playbooks in the dashboard to ElasticSearch which reduces the amount of time it takes to load the playbooks page and playbooks tab in Ads Library

NOTE: When these Ads are deleted all save data will be lost so we have a confirmation modal that will display when deleting an AdAdded delete icons to Ad Builder so users are able to delete Ads while in the Ad creation process

Added "If you exit with unsaved changes, in-progress ads will be lost" messaging when the Exit option is selected while using the Ad Builder